The Pro Tips Baseball Checklist
Get an edge on the field with our complete Pro Tips baseball checklist and equipment guide.
Prepping for baseball season? There are a few essentials you'll need for practice or play. Consult this Pro Tips baseball checklist for a complete guide to the gear you'll need this season.
Start off with your baseball bat — whether it be youth, big-barrel or BBCOR. Before selecting your bat, be sure to consult with league guidelines. Players at the NFHS or NCAA level require a BBCOR-certified bat, for example. Players in little league and younger age groups require a Bat Performance Factor of 1.15.
Next, use our guide to buying baseball gloves to find the right mitt for your position and playing style.  For practice, you'll need extra baseballs, a ball bucket and baseball swing trainers.
Suit up with athletic cups, face guards and mouthguards. Batting helmets should meet league and National Operating Committee on Standards for Athletic Equipment guidelines.
Look the part with baseball pants, practice shirts and jerseys, ball caps and compression gear. And don't forget about footwear — get a grip on the field with our video on purchasing the right pair of baseball cleats.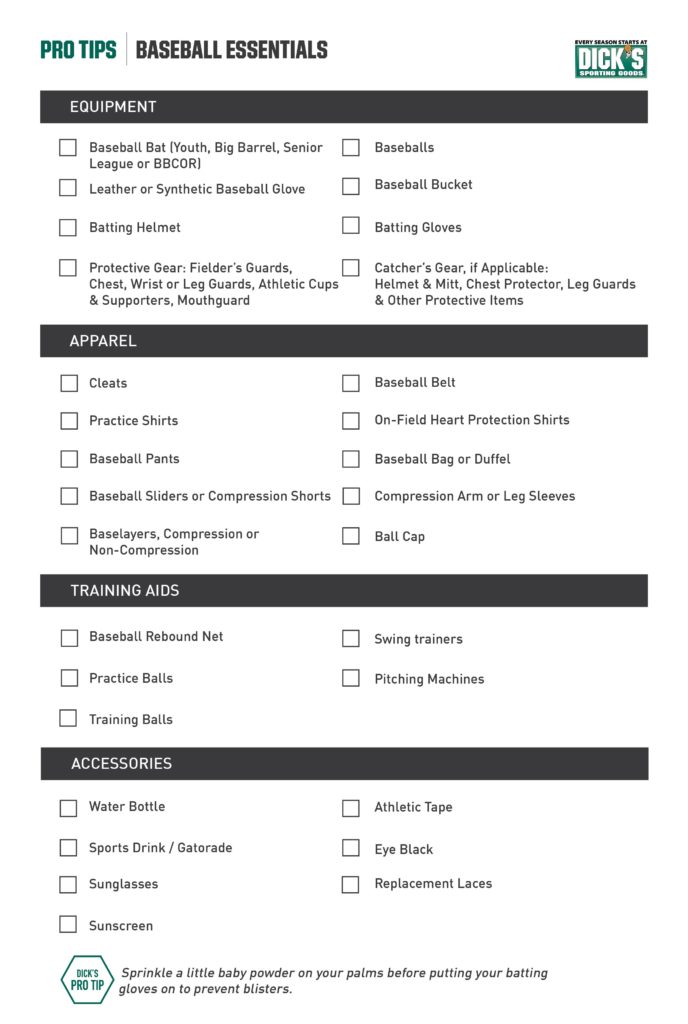 Click on the checklist to enlarge and print