The Best Baseball Gloves
Stay confident through every catch with this Pro Tips collection of the year's best baseball gloves.
To dominate the baseball diamond, you need to trust your equipment. A quality baseball glove can help improve your game in multiple ways. Whether fielding ground balls or outfield flies, the right glove can take your defense to newfound heights.
With so many options, finding the perfect baseball glove can seem harder than an unassisted triple play. We've weaved through the prospects and compiled a lineup of the year's best mitts. Find the best baseball glove for your next breakout play with this Pro Tips guide.
Not sure which glove is right for your position? Discover the best style for your role with these Pro Tips on how to buy the right baseball glove.
*Disclaimer: Inventory may fluctuate due to product availability.
The Best Baseball Gloves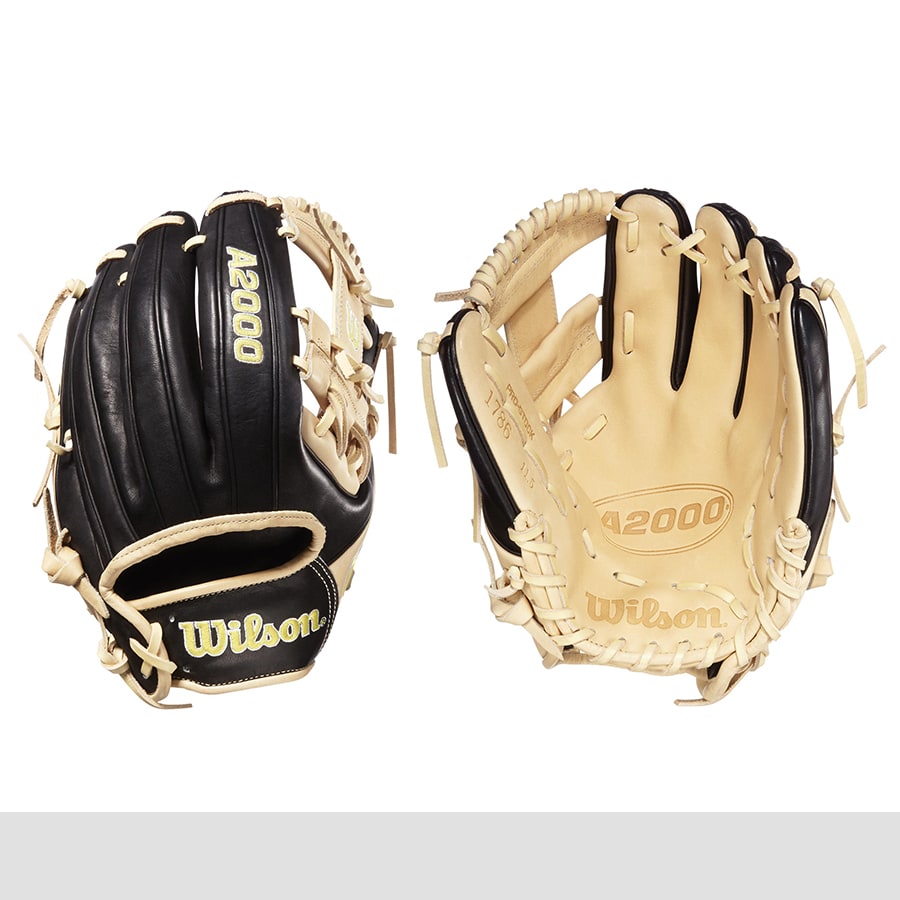 A staple across all diamonds, the Wilson A2000 has been an innovative baseball glove series since its inception in 1957. The Wilson A2000 boasts Dual Welting along each finger back for enhanced durability and break-in longevity. Speaking of, Wilson's Pro Stock Select American Steerhide construction can allow this mitt to have a long career with you. The Wilson A2000 also houses some impressive athlete-focused tech, including DRI-LEX wrist lining. This feature can help create a breathable, more comfortable experience at the opening and help transfer moisture from the skin.
The latest feature in the Wilson A2000 lineup is Wilson's Spin Control Technology. A2000s featuring this component showcase a dimpled pattern in the glove's palm and web. This design is intended to increase friction when fielding a ball, reducing the ball's spin rate in the pocket. The less the ball spins, the easier it can be for athletes to find their grip, leading to more confident transfers and throws.
Multiple colorways, sizes and web patterns are available, so you can choose the perfect glove for your position and style. As the originators of innovation, it's easy to see why many athletes still take the field with a Wilson A2000 Series baseball glove.
Shop the Wilson A2000 Series with Spin Control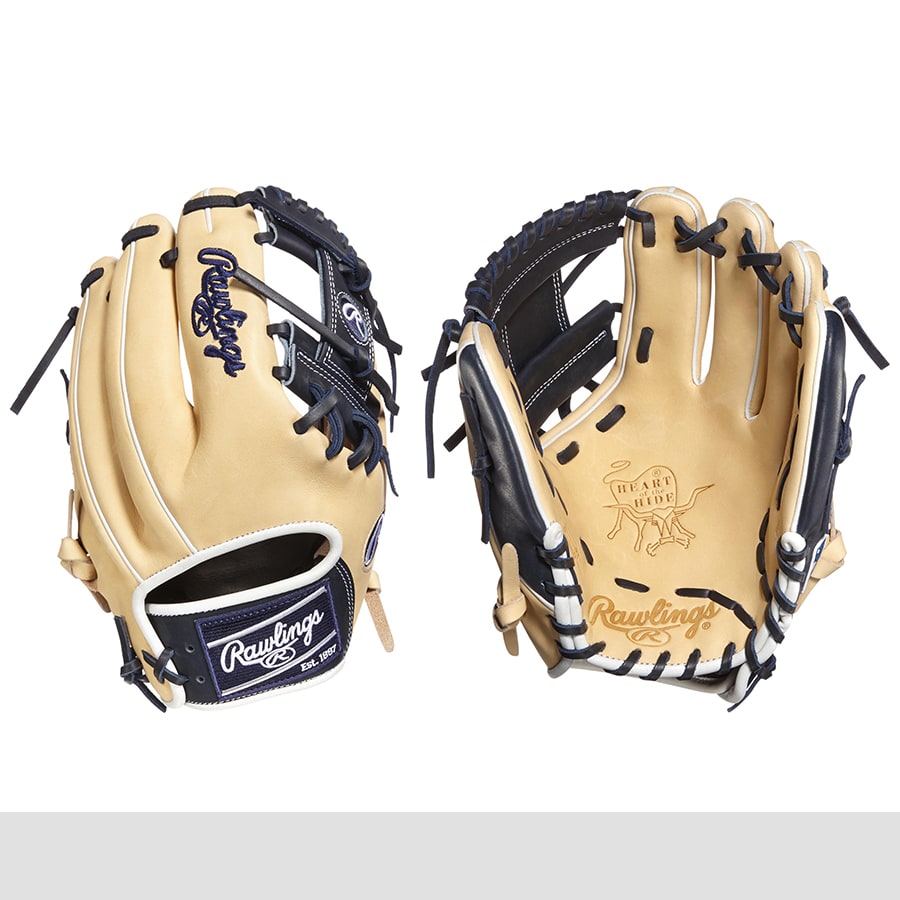 Looking for a blue-ribbon baseball glove to dominate the diamond? Look no further than the Heart of the Hide Series from Rawlings Sporting Goods. Constructed using their Heart of the Hide leather, these baseball gloves are made from the top 5% of available cowhides. This premium leather option can help enhance fit, feel and durability in this top baseball necessity. A Thermoformed Wrist Lining also adds to this baseball glove's comfort by increasing airflow and wicking away moisture from the skin.
If you desire a glove that's closer to game-ready, consider going with a Heart of the Hide R2G or, "Ready to Go." This glove option comes with an additional 25% break-in from the factory. This head start helps minimize the break-in process and can get you closer to game day dominance.
Choose the right web pattern, size and colorway for your particular needs. With a Rawlings Heart of the Hide Series baseball glove, you'll be making plays 'til the cows come home.
Shop the Rawlings Heart of the Hide Series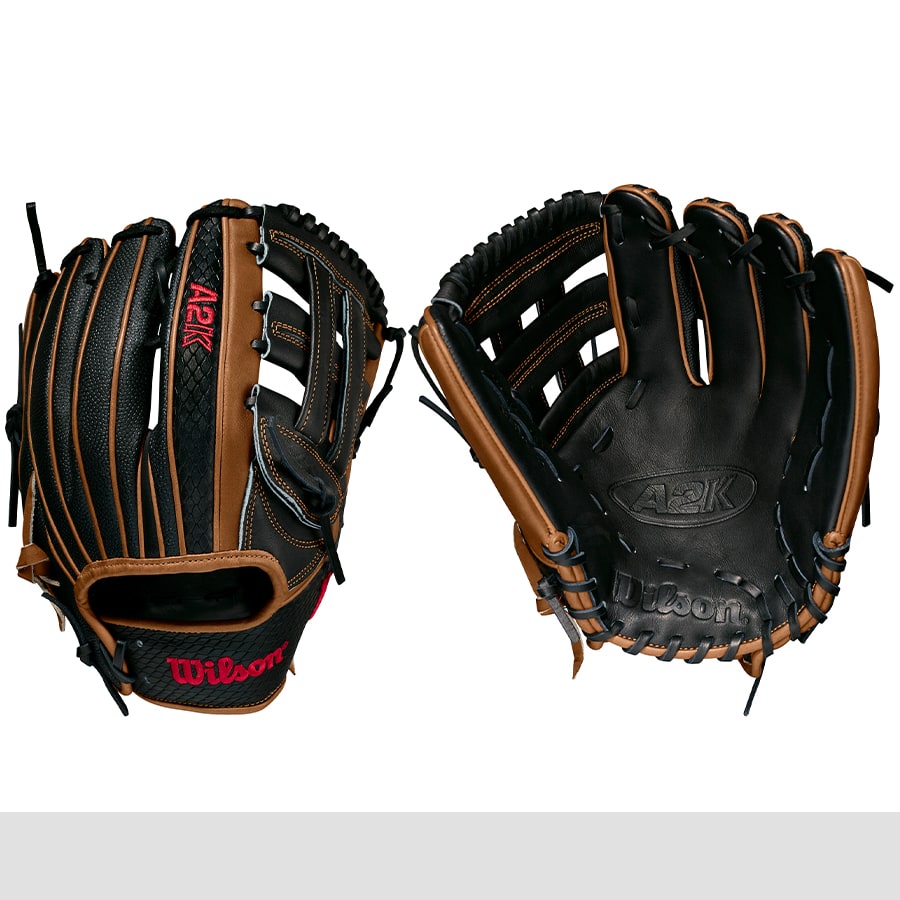 Baseball gloves are not just a piece of sports equipment. They are a well-crafted thing of beauty. Few gloves exemplify this notion better than the Wilson A2K Series. The A2K features Wilson's Pro Stock Select Leather, chosen by a triple-sorting process for consistency and flawlessness. This high-quality material can help improve break-in while maintaining impressive durability. The Wilson A2K Series also uses a Double Palm Construction. This technology features strategically placed leather between the palm and outer shell for maximum pocket stability. A final artisanal touch to this baseball glove is its shaping process. A master craftsman spends three times longer pounding and shaping the Wilson A2K by hand, resulting in better break-in time. Choose the perfect colorway, size and webbing for your position and glamorize your on-field greatness with the Wilson A2K Series.
BONUS PRO TIP: Want to take a deeper look behind the curtain at Wilson Sporting Goods? Discover more from their iconic craftsman, Shigeaki Aso, in this special Pro Tips feature with the glove guru.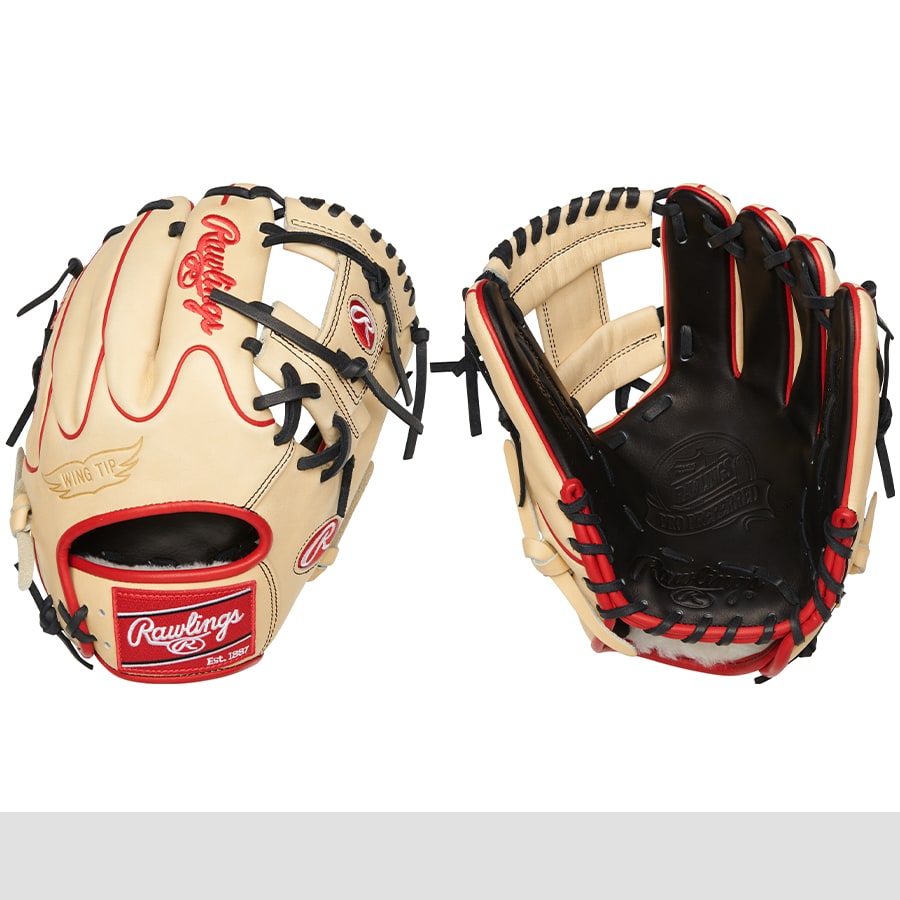 Prefer a more personalized feel to your baseball glove? The Rawlings Pro Preferred Series can provide just that. Constructed from full-grain kip leather, this baseball glove can break in great for a one-of-a-kind fit. You can create a pocket all your own thanks to the 100% wool padding, too. The Rawlings Pro Preferred is also designed so your custom break-in lasts for seasons to come. Features like Pro Grade leather laces help improve strength and durability, keeping your equipment working as hard as you do. And while you're commanding every inning, the Pittards sheepskin palm lining can keep you comfortable as well. This added component helps by wicking away moisture for an improved, cozy feel. Multiple colorways, web designs and sizes are available to make the Rawlings Pro Preferred your top pick this baseball season.
Shop the Rawlings Pro Preferred Series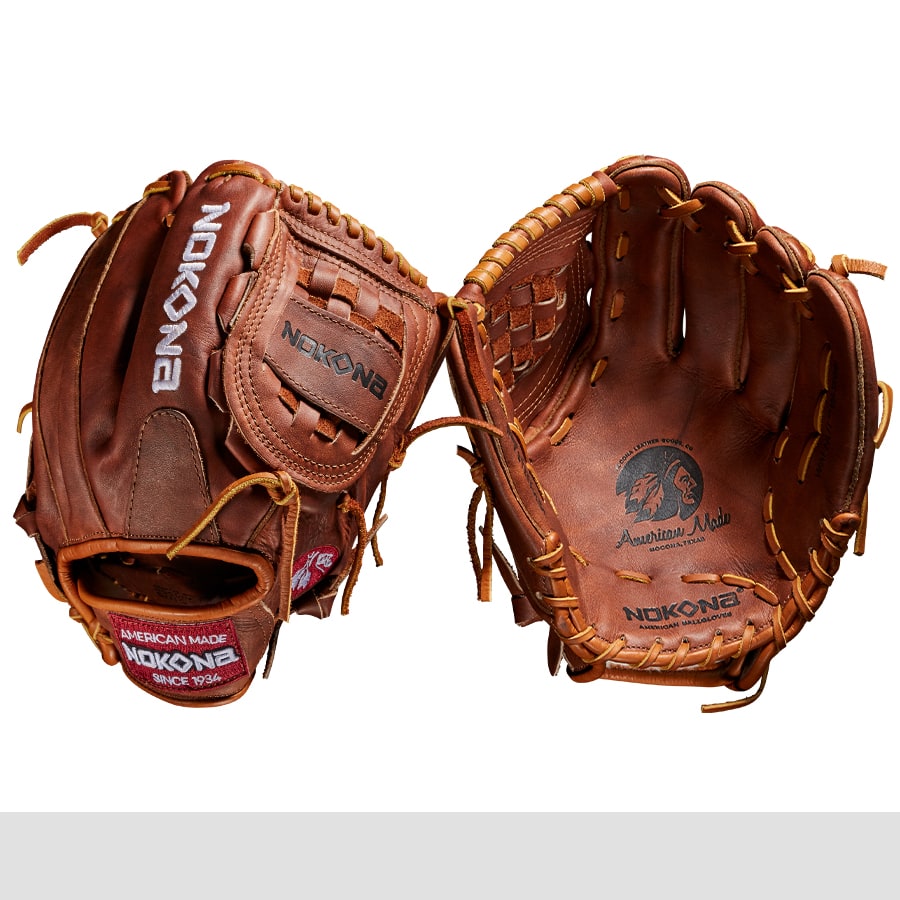 Looking to honor America's pastime with a baseball glove that's born and raised in your backyard? Take the field with the Nokona Walnut Series. Nokona American Ball Gloves has been handcrafting mitts in the United States for over 85 years. The Walnut Series pays tribute to their heritage using their proprietary Walnut Crunch leather for great stability, durability and feel. These baseball gloves require a minimal break-in period, getting you game-ready in a shorter timeframe. A conventional open back can help improve flexibility, with an additional shearling cuff for added comfort. Respect the history of the game as you write your own chapter this baseball season with the Nokona Walnut Series.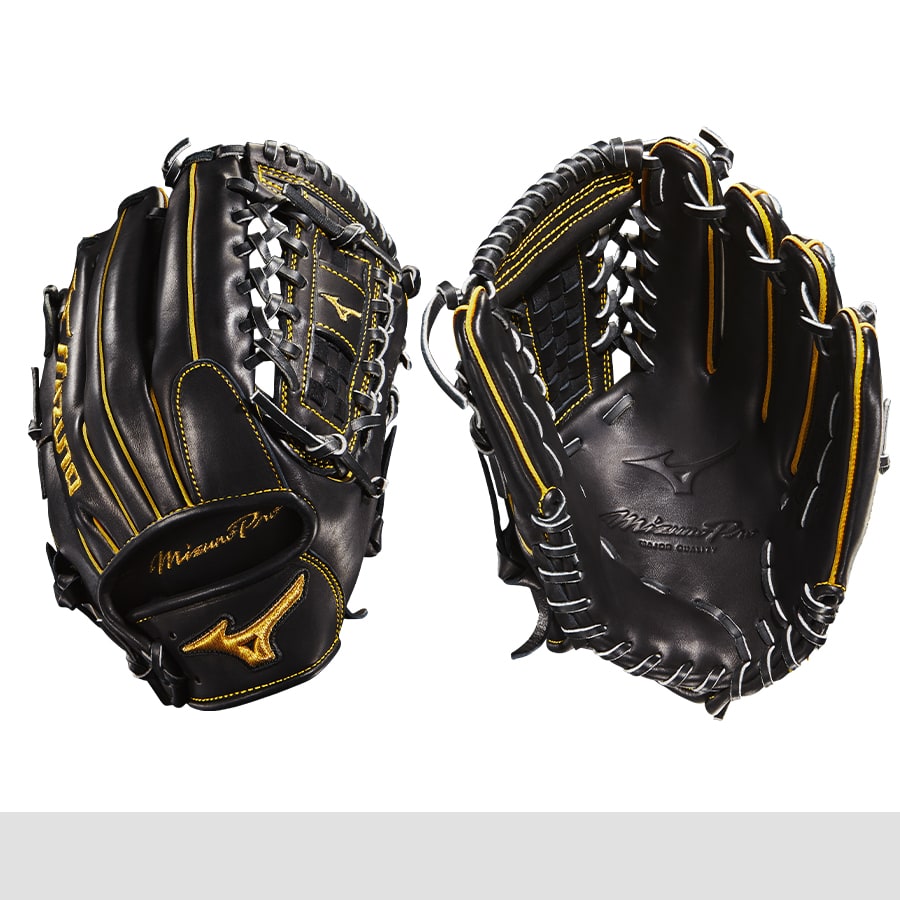 Designed with the athlete in mind, the Mizuno Pro Series features Player Pocket Design. These pre-formed pockets are tailored to meet the specific needs of each position. Mizuno's Hand-Based Patterns can also improve pocket performance by placing it under the web for a better shaping experience. Premium leathers make up the outer shell and palm liner for enhanced durability and consistent feel. Various size, web and color options are available, giving you an opportunity to craft your on-field style. No time for amateur results; reach pro-level performance this season with the Mizuno Pro Series.
Perhaps you're looking for a truly unique baseball glove that's as vibrant as your on-field success. If this is your style, consider putting on your creative cap with a custom Rawlings baseball glove. Choose from their premier Pro Preferred or Heart of the Hide series and begin your masterpiece. Custom Rawlings baseball gloves allow you to select your own size, web pattern, colorway and more. Looking to match your team's color scheme? Throw some colorful leather or metallic stamping into your build. Want to leave a mark on the game? Choose custom embroidery and let your opponent know who has the lockdown defense this year. With a Rawlings custom baseball glove, your only limit is your imagination.
Shop the Rawlings Custom Glove Series
The right baseball glove can help you unlock your true potential on the diamond. Use this comprehensive Pro Tips guide to find the mitt that matches your game.
You've picked out your new glove. Now it's time to craft it to your liking. Use these Pro Tips on how to break in a ball glove and transform your leather into a one-of-a-kind playmaker.