The 10 Best Coolers
Kick back and chill with one of our top-rated coolers for 2020
Just about everyone can benefit from having a quality cooler on hand. Whether you need one for camping, tailgating, fishing or the occasional get-together, you'll find plenty of great options on this list. These coolers are made with durable materials designed to keep drinks cold and food fresh for extended periods — sometimes for days — so you can focus on having fun instead of adding ice. Check out our top picks for the most popular cooler categories:
If you feel you need more information before you buy, check out our guide on what to look for in a cooler.
BEST SOFT COOLERS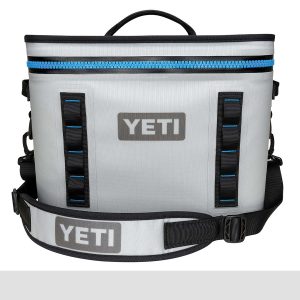 With over 500 five-star customer reviews, the YETI Hopper 18 is one of the most popular soft-sided coolers available at DICK'S Sporting Goods. But don't let the word "soft" fool you – this cooler is as tough as they come. The patented DryHide exterior is waterproof and puncture-resistant, making it ideal in wooded camping areas or rocky fishing spots. The HydroLok zipper provides a leak-proof closure, while closed-cell rubber foam provides next-level insulation. The detachable shoulder strap allows you to comfortably carry the Hopper to your destination. Plus, the HitchPoint grid offers space to store essential accessories like a bottle opener.
Key Specs
Can Capacity: 20
Weight 5 lbs.
Shop the YETI Hopper Flip 18 Cooler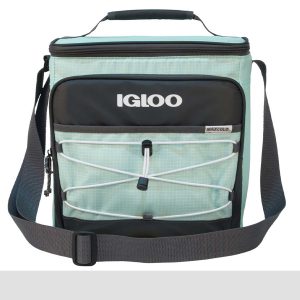 If you're packing light, this affordable soft-sided cooler from Igloo will serve you well. Customers love the removable, plastic inner liner – it's both easy to clean and helps prevent sandwiches and snacks from getting crushed. Patented MaxCold insulation helps keep items cold and fresh, and the cooler also includes slots to hold an Igloo ice pack.
Key Specs
Can Capacity: 12
Weight: 1.51 lbs.
Shop the Igloo Ringleader HLC Bungee 12 Can Cooler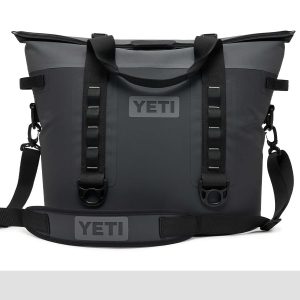 Instead of a zipper, the YETI Hopper M30 features a unique magnetic-closure system that offers a 50 percent wider opening than other Hopper models. Now, in true YETI fashion, these magnets are incredibly strong. This ensures a 100 percent leakproof seal, but it can be a bit tricky to keep the cooler open when loading. That said, with its puncture-resistant outer shell and patented ColdCell insulation, the M30 is a ruggedly dependable option for any outing.
Key Specs
Can Capacity: 20
Weight: 7 lbs.
Shop the YETI Hopper M30 Cooler
BEST BACKPACK COOLERS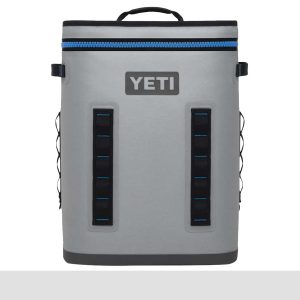 If you're looking for a cooler you can carry on longer treks, there's no better option than the top-rated YETI Hopper Backflip 24. The ergonomic straps fit comfortably on your shoulders, while the chest strap and waist belt (both removable) offer extra support if you're traversing uneven terrain. Like other Hopper coolers, the BackFlip 24 features a puncture-resistant DryHide shell and ColdCell insulation to keep items cold and protected. Whether you're walking to the beach, hiking to the campground or climbing down the bank to your favorite fishing spot, the BackFlip 24 will be the perfect companion.
Key Specs
Can Capacity: 20
Weight: 5.3 lbs.
Shop the YETI Hopper BackFlip 24 Backpack Cooler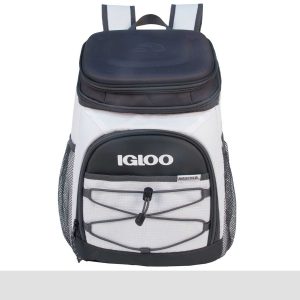 The Igloo Ringleader Hard Top Backpack offers quality performance at an affordable price. The adjustable straps feature air-mesh padding to make carrying as comfortable as possible, while an inner plastic compartment helps secure your items. The top of the backpack features a crush-proof compartment that's perfect for extra snacks, plus there are side mesh pockets and an expandable front pocket with bungee straps. At less than $50, it's hard to beat the value of this customer favorite.
Key Specs
Dimensions: 10.6" x 8" x 13.5"
Weight: 1.1 lbs.
Shop the Igloo Ringleader Hard Top Backpack Cooler
BEST SMALL COOLER (HARD SIDED)
The popular YETI Roadie recently received a major upgrade. It's now 10 percent lighter with 20 percent more capacity and 30 percent more insulating power than previous models. The Roadie 24 features YETI's patented Permafrost Insulation, which is capable of keeping ice for several days. The innovative, flexible latches keep the lid secure and allow for one-handed cooler access, while Neverfail technology prevents the hinges from snapping. The tall, slim construction is designed to fit perfectly behind the front seat, not to mention it can fit most wine bottles.
Key Specs
Can Capacity: 18
Weight: 12.8 lbs.
Shop the YETI Roadie 24 Cooler
BEST ICE CHESTS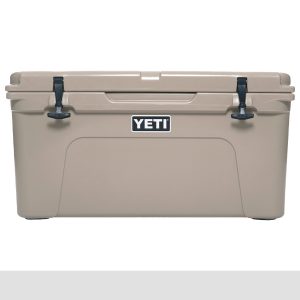 With over 2,700 five-star reviews from our customers, the top-selling YETI Tundra 65 is the gold standard for large, hard-sided coolers. The rotomolded construction is virtually indestructible (not to mention grizzly proof), and the Permafrost Insulation offers the ultimate in ice retention. This colossal cooler can fit 42 cans, and it even includes a dry-goods basket if you want to keep certain items off of the ice. If you're looking for something a little smaller and more affordable, check out the YETI Tundra 35.
Key Specs
Can Capacity: 42
Weight: 29 lbs.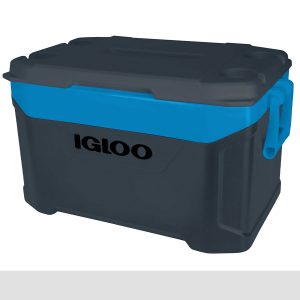 At less than $30, this cooler is one the best value ice chests you can buy. The Latitude 50 features Igloo's Cool Riser Technology, which keeps the bottom of the cooler off of the ground to limit heat transfer from hot surfaces like pavement or a truck bed. This technology enables the cooler to keep ice for up to three days, depending on the conditions. The Latitude's lid also offers convenient extras, including four self-draining cup holders and a built-in, mobile-device stand if you want to watch video on your phone or tablet.
Key Specs
Can Capacity: 85 (with no ice)
Weight: 10.7 lbs.
Shop the Igloo Latitude 50 Quart Cooler
BEST COOLERS WITH WHEELS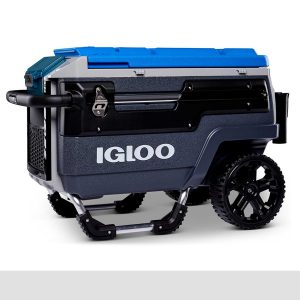 The Igloo 70 Qt. Trailmate is loaded with features our customers love. For starters, with its Ultratherm Insulation and innovative Cool Riser Technology to keep it off of the ground, this cooler provides four days of ice retention at minimum. The large, 10-inch Never-Flat wheels glide easily over tough terrain, while the telescoping, aluminum handle helps keep the cooler from bumping your legs during transport. Finally, the 70 Qt. Trailmate includes convenient extras like two built-in bottle openers, four cup holders, a suspended food basket for items you want to keep dry, and two mounts to hold fishing rods or a beach umbrella.
Key Specs
Can Capacity: 112
Weight: 34.7 lbs.
Shop the Igloo 70 Qt. Trailmate Roller Cooler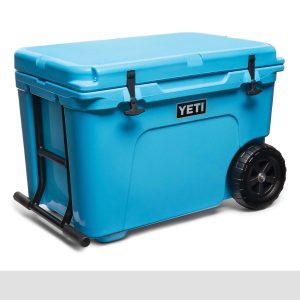 If you're looking for a rugged, wheeled cooler that can roll pretty much anywhere – whether it's the trail, beach or less-traveled paths – you should strongly consider the YETI Tundra Haul. The puncture-resistant NeverFlat Wheels are built to go for miles on even the toughest terrain, while the padded, aluminum handle ensures comfortable, dependable towing. And, of course, the Haul has YETI's legendary insulation and rotomolded construction for extreme durability and incredible ice retention.
Key Specs
Can Capacity: 45
Weight: 37 lbs.
Shop the YETI Tundra Haul Cooler
Visit DICK'S Sporting Goods to see more top-rated YETI coolers, Igloo coolers and options from other top brands. Plus, make the most of your purchase by checking out our guide on how to pack a cooler.