The Eight Best Indoor Games for 2022
Looking for fun ways to pass the time inside? Check out this list of the best indoor games for 2022.
You don't often hear the words "go inside and play," but sometimes there's simply no choice. Whether it's rainy weather, a cold front or scorching heat, outdoor playing conditions aren't always ideal. Don't worry, we have you covered. Bring the fun inside with our favorite indoor games for 2022.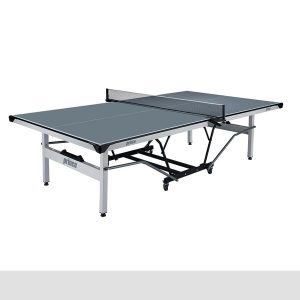 The Prince Tournament 6800 is the top-rated table available at DICK'S. The table top is 18″ thick and made with medium-density fiberboard (MDF) to provide a quality playing surface and true bounce. The solid frame helps ensure stability during play, while the swivel wheels help make it easy to move and store the table. Quick-clamp net holders help to simplify set up and take down while built-in storage holds your paddles and up to 12 table tennis balls — we recommend picking up the Prince Premium 4-Player Racket Set and One-Star White Table Tennis Balls. The table arrives partially assembled and can be completed in two hours or less with two people.
Shop the Prince Tournament 6800 Indoor Table Tennis Table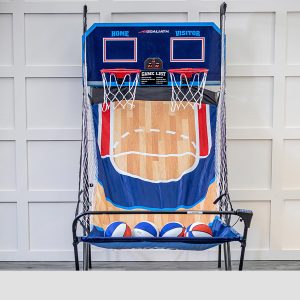 Shoot hoops at home anytime with Atomic Patriot Arcade Basketball. The durable steel frame provides authentic, arcade quality and it folds in half for convenient storage. Two players can enjoy eight different game modes, complete with LED electronic scoring that keeps track of every bucket. The unit includes four rubber basketballs and a pump to keep the game going.
Shop Atomic Patriot Arcade Basketball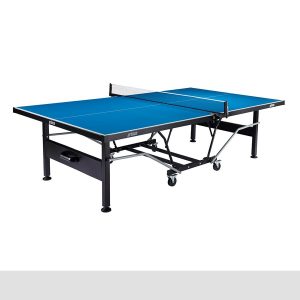 If you'd like the option to take the game outside, we recommend the Prince Odyssey All-Weather Table Tennis Table. The table features an aluminum-and-PVC-composite playing surface designed to withstand changing outdoor conditions. It's also painted with a UV-protective coating to help prevent fading even after extended exposure to sunlight. The premium, all-weather nylon net and plastic posts are designed to hold up over the long haul whether you're playing in the game room or on the patio. The table comes 50% pre-assembled and can be completed in 90 minutes or less with two people.
Shop the Prince Odyssey All-Weather Table Tennis Table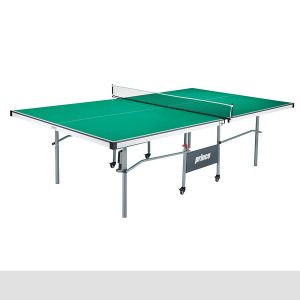 If you're looking for an affordable table tennis option, consider the Prince Signature 5200. This indoor table features a 12mm particle-board top that provides consistent bounces along with a matte-green finish for a classic look. The 1.6-inch, box-steel apron provides impressive stability, while the swivel wheels and locking casters allow for convenient transport and storage. Plus, the user-friendly assembly can be completed in 60 minutes or less with two adults.
Shop the Prince Signature 5200 Indoor Table Tennis Table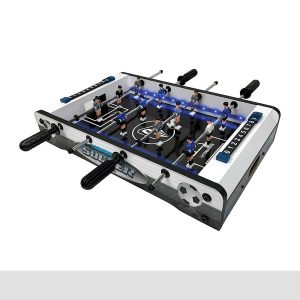 Tabletop games always end up being way more fun than you initially expect. You sit down, thinking you'll play play a game or two to pass some time, and before you know it, you're locked in a ferocious best-of-seven battle for tabletop supremacy. If that sounds like you and your family, consider adding the Triumph 20" LED Light-Up Tabletop Foosball Table to your collection. The compact, portable design lets you enjoy fast-paced foosball action anywhere. Built-in LED lights allow you to keep the game going after dark, while manual sliding scoring makes it simple to keep track of every goal. The game includes two standard-sized foosballs.
Shop the Triumph 20" LED Light-Up Tabletop Foosball Table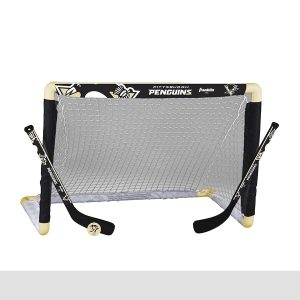 Enjoy family shootouts in the living room with this popular mini hockey set from Franklin. This kid-friendly set includes one net, two sticks and a foam ball, all featuring the logo and colors of your child's favorite team. And while it's designed for kids, there's nothing stopping adults from getting down on the floor and firing a few top-shelf slap shots.
Shop the Franklin NHL Team Mini Knee Hockey Set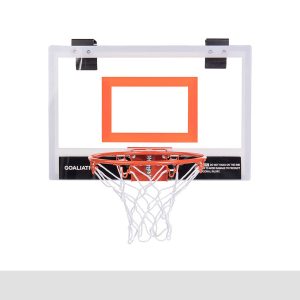 Who doesn't love a mini basketball hoop? It's the perfect addition to a bedroom, game room, office, dorm room or any room, really. This mini hoop from Goaliath is a customer favorite and our top pick for serious fun. Unlike cheaper plastic models, this mini hoop features an 18″ shatter-proof backboard along with a 9″ breakaway rim with spring action. The hoop comes with foam-padded mounting hardware for easy installation.
Shop the Goaliath 18″ Mini Basketball Hoop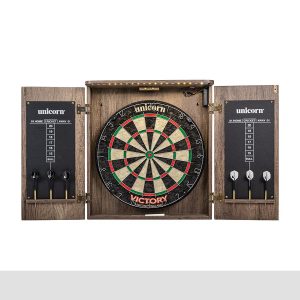 Add a touch of class to your game room with this attractive dart board cabinet set. The cabinet contains a bristle dart board for an authentic look and pure playability, while the doors hold chalk boards for scoring and slots for the six included darts. Five high-powered LED lights illuminate the board and provide a tournament-style experience at home.
Shop the Escalade Victory LED Bristle Dart Board Cabinet Set
Looking for more options to keep the family entertained inside the house? Check out the full selection of indoor games available at DICK'S.