The Eight Best Indoor Games for 2021
Pass the time inside with these top-rated indoor games for 2020. Check out our recommendations for table tennis, darts, air hockey, foosball and more.
You don't often hear the words "go inside and play," but sometimes there's simply no choice. Whether it's rainy weather, a cold front or scorching heat, outdoor playing conditions aren't always ideal. Don't worry, we have you covered. Bring the fun inside with our favorite indoor games for 2021.
Best Table Tennis Table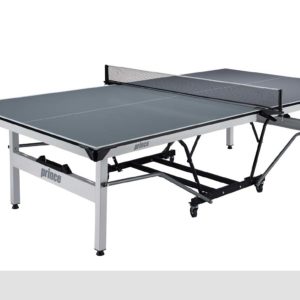 The Prince Tournament 6800 is the top-rated table available at DICK'S. The table top is 18″ thick and made with medium-density fiberboard (MDF) to provide a quality playing surface and true bounce. The solid frame helps ensure stability during play, while the swivel wheels help make it easy to move and store the table. There are also several features to enhance convenience — quick-clamp net holders designed to simplify set up and take down, plus built-in storage to hold your paddles and up to 12 table tennis balls (sold separately). The table arrives partially assembled to make set up as easy as possible — on average it takes two adults about two hours to complete the assembly.
Shop the Prince Tournament 6800 Indoor Table Tennis Table.
Best Electronic Dartboard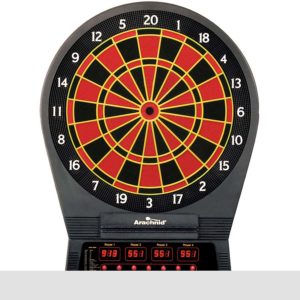 The Arachnid CricketPro 650 can make the perfect addition to your game room. This regulation-size dartboard comes programmed with 24 insanely fun games — including five cricket games — that you can enjoy with up to eight players. The LED display makes it simple to track scoring, and voice technology even prompts players to throw when it's their turn. The Arachnid CricketPro 650 comes with six darts and extra tips.
Shop the Arachnid CricketPro 650 Electronic Dartboard.
Best Air Hockey Table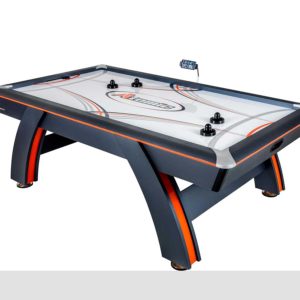 If you want arcade-quality in your home, go with this table from Atomic. The table is incredibly solid and provides plenty of air power to help keep the puck gliding throughout every game. The ScoreLinx mobile app allows you to keep score on your phone and also lets you customize play with sound effects, voice recordings and more. The table comes with four pushers and two pucks. Keep in mind, because this is a quality table, it is quite large and heavy — plan to have help on hand during assembly.
Shop the Atomic 7.5′ Contour Air Hockey Table with ScoreLinx.
Best Mini Air Hockey Table
If you're looking for a more affordable air hockey option, consider the HX40 Air Hockey Table Top from Sport Squad. The table features a high-output fan that allows the puck to glide just like it would on a larger model, while the 40″ x 20″ size fits conveniently on most play tables, dining room tables or practically anywhere you want to play. The table comes with two pucks, two pushers and features a built-in manual scoring system.
Shop the Sport Squad HX40 Air Hockey Table Top.
Best Foosball Table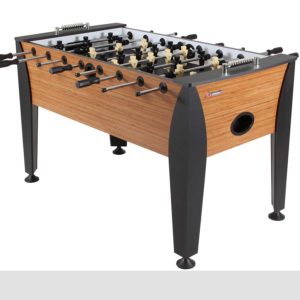 The Atomic Pro Force Foosball Table offers quality performance at a reasonable price. The table features heavy-duty legs to provide superior stability, while the playing surface is made with 1/2″-thick medium-density fiberboard (MDF) to help ensure smooth-rolling play. The internal ball entry and ball return keep the game moving, and manual slide scoring lets you track every goal.
Shop the Atomic Pro Force Foosball Table.
Best Mini Foosball Table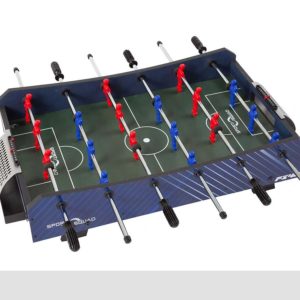 This family-friendly mini foosball table from Sport Squad can provide hours of entertainment. The 40″x20″ portable design allows you to take the game anywhere, making it a great option for family parties or game nights. And it's not strictly for the kids — with a durable MDF construction, chrome-plated steel rods and grooved handles, adults can enjoy the action as well. The table comes with two mini foosballs.
Shop the Sport Squad FX40 Compact Mini Tabletop Foosball Table.

Best Mini Basketball Hoop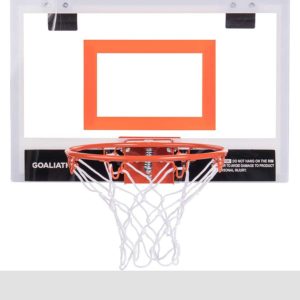 Who doesn't love a mini basketball hoop? It's the perfect addition to a bedroom, game room, office, dorm room or any room, really. This mini hoop from Goaliath is a customer favorite and our top pick for serious fun. Unlike cheaper plastic models, this mini hoop features an 18″ shatter-proof backboard along with a 9″ breakaway rim with spring action. The hoop also comes with foam-padded mounting hardware for easy installation.
Shop the Goaliath 18″ Mini Basketball Hoop.
Best Knee Hockey Set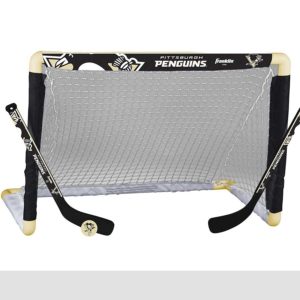 Gather round and take a knee with this popular mini hockey set from Franklin. The set includes one net and two sticks that you can customize with your favorite team's logos and colors. You'll also get a foam ball that's ideal for indoor play so you can safely work on your slapshots and wristers.
Shop the Franklin NHL Team Mini Knee Hockey Set.
Looking for even more indoor games to keep the family entertained? Check out our full collection of indoor games.
It can take a lot of effort to keep the family entertained, so don't forget to take time for yourself. Check out our top 10 self-care products that can help you relax at the end of a long day.