How to Make Hiking More Interesting for Kids
Prevent young minds from wandering off the trail with these fun ideas to help keep kids engaged and excited before, during and after a hike.
Introducing your kids to hiking is a great way to feed their sense of adventure and spend time outdoors as a family. However, hiking with little ones poses unique challenges and keeping them interested on the trail may not always be an easy task. Birds' songs may be replaced by choruses of "are we there yet?" or "when can we go home?" and initial timelines could get thrown to the wind. Thankfully, this Pro Tips guide can help you find a path that can't be beat and smooth the way for little ones.
PRE-HIKE PREPARATION  
Kids may have a thirst for adventure. Expect the unexpected and make sure your kids are prepared for what they may encounter on the hike with some family planning and packing.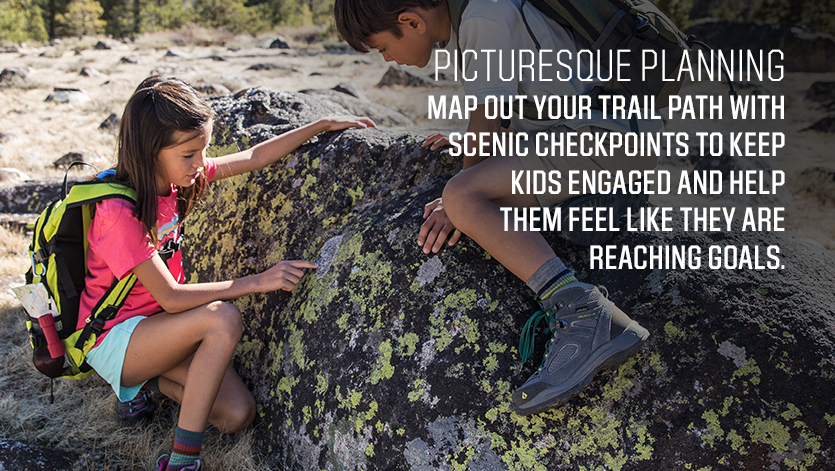 Pack Your Bags – While planning for your hike, it's important to pack everything your child may need (within reason), especially if you're going far from home. Keep in mind that you may end up carrying their bag in addition to your own, so try to pack lightly. Important items to include are sunscreen, insect repellent, a collapsible water bottle, extra clothes and a first-aid kit. If you plan on taking pictures, you may want to consider a disposable camera so that expensive gadgets aren't exposed to the elements. Go over what you're packing with your child so they understand why items are important. Most of all, make sure you bring plenty of snacks!
Picturesque Planning – Decide on your path beforehand and take your map with you. While picking a trail, consider your child's fitness level as well as the ascent and length of the hike. t's important to remember to be aware of their capabilities and remember that hikes with children may need to be shorter and/or slower. Depending on how old your child is, you may need to carry them during parts of the trip.Also, map out your trail with scenic checkpoints along the way. This is a great way to plan breaks and keep kids engaged by helping them feel like they are reaching goals. Having an end destination planned with a special surprise to reward your kids for a hike well done is something they can look forward to as well. Maybe it's reaching a lake or a waterfall where your family can swim and frolic.
Critter Coaching – New and experienced hikers alike can find unfamiliar animals, insects and plants all the time. Sit down with your child before the trip and show them some new things they may encounter. It's a great learning experience and can help keep things like poison ivy from poisoning the fun.
HIT THE TRAIL
During the hike, kids may get tired, bored or cranky. Here are some tips to help them stay entertained and energized throughout the day.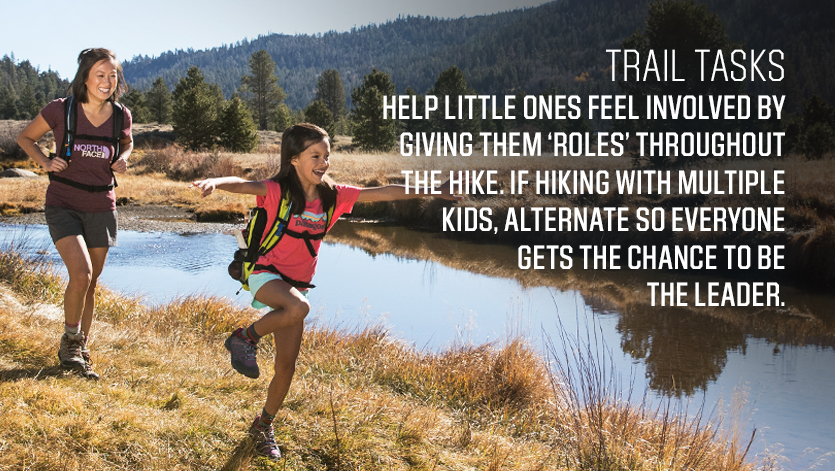 Trail Tasks – Help little ones feel involved by giving them 'roles' throughout the hike. They can be the leader, the lookout or even the photographer. hiking with multiple kids, alternate roles so everyone gets the chance to be the leader and no one feels left out.
Open-air Amusement – Hiking may not always be fun and games, but it doesn't hurt to plan some for along the way. Plan activities for children to do while on the trail at both break points and during the hike itself. Games like scavenger hunts and trail bingo are a great way to keep kids alert and aware of their surroundings.
The Law of the Wild – Set some rules and put some boundaries into place. You may want to introduce your children to the "Leave No Trace" ethics — seven principles that are meant to minimize human impact on nature. They include disposing of waste properly, being considerate of other visitors and respecting wildlife. Some parents like to impose a "No Complaining Zone" rule as well to keep a relaxed and positive atmosphere during the duration of the hike.
Log Off and Log On – While social media may have to wait, logging the experience through photos and a journal is a great way to keep occupied on the trail. Children will undoubtedly have questions – sometimes more than you can answer. Write down questions you may not know the answer to so you can look it up later and satisfy their curiosity.
Break Bites – Hiking can be tiring. When you get to premapped checkpoints, reward your kids with a snack and water break. The reward can help keep them motivated while also giving them an energy boost to keep on trekking.
HIKING HINDSIGHT
The fun doesn't have to stop when you reach your final destination. When you're back home or head back to the campsite after the hike, there are various ways you can commemorate the experience.
After-hike Activities – Use the time after the hike to get your kid's creative juices flowing. If you took pictures while on the trail, a scrapbook is a great way to remember the trip. Kids may also want to draw pictures of some of their favorite moments or even write stories about their adventure. Leaf etching and creating DIY walking sticks are also fun and easy crafts that can help them connect with some of the nature they've seen. However, before you take home any leafs or sticks, be sure to know the rules of your site's Leave No Trace agenda and only take items that have already fallen off trees — don't cut or pull them off yourself.
Education Exploration – Take some time to sit together and look up the answers to the questions that may have been written in your journal along the way. Both you and your youngster may learn something new!
Taking children on adventures in the great outdoors can seem challenging. But with the help of this Pro Tips guide, embarking into nature as a family can be filled with good-natured fun.