The Eight Best Fishing Kayaks
Find the best fishing kayak for your next trip with this angler-approved list of the year's top picks.
Fishing can be a great escape from everyday life. But what if you want to escape a little further than the shoreline will take you? Fishing kayaks can help anglers explore uncharted waters and enjoy hotspots not accessible by shore or boat.
Choosing the right fishing kayak for your needs can seem daunting with the abundance of options available. Hook into a keeper with help from this collection of the year's best fishing kayaks for your next trip.
BEST SIT-ON-TOP FISHING KAYAKS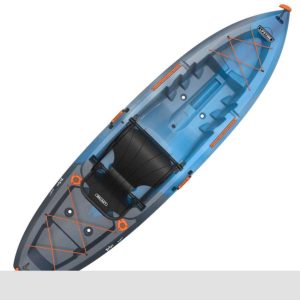 Paddle with confidence while atop the Lifetime Teton Angler. With a unique hull design for improved tracking and stability, this vessel can be great for anglers eager to fish. The durable UV-Protected High-Density Polyethylene construction can also ensure your fishing kayak will stay in top angling shape season after season. Front and rear tankwell storage – as well as two flush mount rod holders – can provide the necessary space to house all your fishing gear and equipment.
Shop the Lifetime Teton Angler Kayak.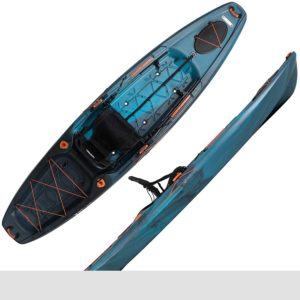 Take your fishing adventures to newfound waters atop the Lifetime Teton Pro Angler. Perfect for lakes, rivers and reservoirs, this vessel features a high initial stability hull for improved stand up casting. The adjustable frame seating also houses two settings for maximum comfort, whether fishing and paddling or reclining and relaxing. Fret not about taking on water thanks to the Deck Channel Draining System featuring eight self-bailing scupper holes. The Lifetime Teton Pro Angler even comes equipped with a molded-in 28-inch ruler for measuring every trophy you bring aboard.
Shop the Lifetime Teton Pro Angler Kayak.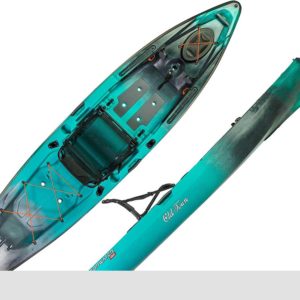 A comfortable fishing trip is just a launch away with the Old Town Topwater 120 Angler. The breathable ElementAir seat and EVA foam deck pads can make for an enjoyable float on the water. This vessel also boasts a revolutionary universal transducer mounting system to house your fish finder for seeking out prized hotspots. The ultra-stable DoubleU hull design can help improve handling and stability when casting and reeling in your next big catch.
Shop the Old Town Topwater 120 Angler Kayak.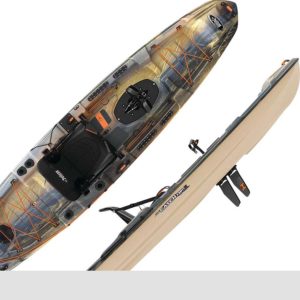 The Pelican Catch 130 Hydryve Angler can be a great option for those wanting speed on the water. Featuring a Hydryve Pedal System, this sit-on-top fishing kayak can be a quick and nimble vessel when navigating offshore. The Ergocast G2 Seating System can help create a comfortable experience when fishing. There is also plenty of storage for your fishing gear and necessities. Utilize the multiple tankwells, rod holders and tackle box compartment to pack everything for a fun-filled day on the water.
Shop the Pelican Catch 130 Hydryve Angler Kayak.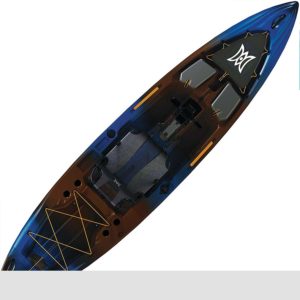 Maneuver with grace and precision on the Perception Pescador Pilot Pedal Drive Angler. This lightweight fishing kayak features an innovative pedal system for improved mobility through tight areas. This vessel is also comfortable in part to the breathable captain's chair featuring adjustable stadium-style seating. Ample storage and customizable gearing rigs can help ensure you have room for all your angling needs. Float with confidence and reel in the big one atop this quality fishing kayak.
Shop the Perception Pescador Pilot Pedal Drive 12.0 Angler Kayak.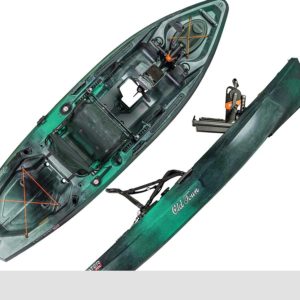 Put your best foot forward during your next angling adventure with the Old Town Topwater 106 PDL Angler. Using the PDL Drive pedal system for forward and reverse navigation, this kayak can help improve maneuverability on the water. The ultra-stable DoubleU hull design can help you remain stable as you cast away for trophy catches. You can even mount your favorite fish finder to locate your next favorite fishing hole thanks to the universal transducer mounting system. Keep your fishing gear close and accessible with the onboard rod and tackle storage areas for an enjoyable angling experience.
Shop the Old Town Topwater 106 PDL Angler Kayak.
BEST SIT-IN FISHING KAYAKS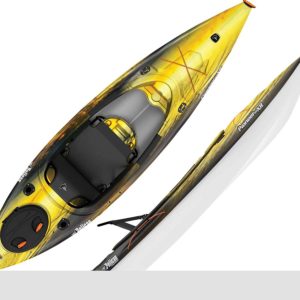 Looking for a budget-friendly beginner vessel? The Pelican Pioneer 100XR can be a great introductory fishing kayak for anglers wanting to venture offshore. This stable vessel can easily maneuver through the water as you paddle to your favorite fishing spot. Upgraded hatches with storage bags can allow you to tote your necessary fishing gear wherever you roam. Your next angling adventure can also be a cozy one, thanks to the adjustable footrests and premium knee pads for cushioned comfort.
Shop the Pelican Pioneer 100XR Kayak.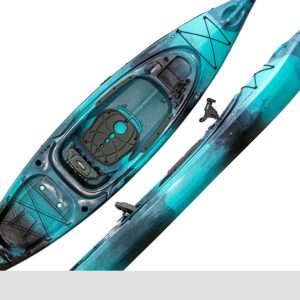 Another sturdy fishing kayak that won't break the bank is the Perception Hook 10.5 Angler. Casting out while in this vessel is a breeze, thanks to the tri-keel stabilizer hull for better tracking and stability. The molded-in rod holders and dashboard can help you transport your fishing needs from spot to spot. You can also find comfort on the water in a padded seat with adjustable backrest. Paddle out and hook into some fun with this great fishing kayak.
Shop the Perception Hook 10.5 Angler Kayak.
Ready to launch your new vessel for a great day on the water? Discover how to pack your fishing kayak to keep your spirits high and your catches plenty with these fishing Pro Tips.