18 of the Best Golf Training Aids
Sharpen your skills and stay on target all season long with the best swing trainers, putting mats and more.
It doesn't take much for bad habits to creep into your swing, especially when you can't get to the course on a regular basis. Keep your skills sharp with these 18 top-rated training aids.
Best Golf Swing Trainers
Best Putting Aids
Best Golf Mats
Best Golf Nets
Best Golf Training Balls
Best Golf Swing Analyzers
Best Golf Swing Trainers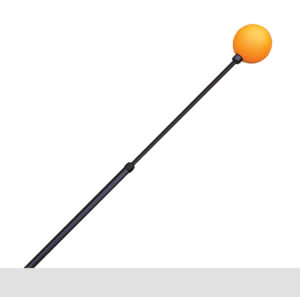 The top-rated Orange Whip can help you keep your swing in sync at home. The incredibly flexible shaft, weighted orange ball and strategically placed counterweight work in unison to promote proper swing tempo and balance. If your rhythm is off when you swing the Orange Whip, it will wobble to let you know an adjustment is needed. In addition to correcting swing flaws, the Orange Whip can also help improve flexibility and strengthen the core muscles used during the golf swing.
Shop the Orange Whip Swing Trainer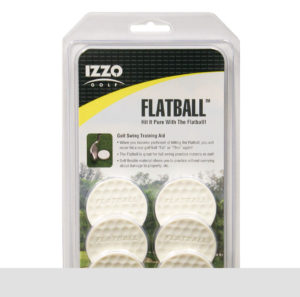 If you struggle with thin or fat shots, then you should try the Flatball Training Aid. The Flatball is actually not a ball at all but rather a flat disc measuring just a quarter-inch in height. When you hit the disc flush it will travel a short distance to let you know you've made a proper swing. However, if you take a swing that's too steep or too shallow, you will miss the disc completely. Train with the Flatball regularly at home and you're likely to enjoy much better contact on the course. And, at under $10, it is one of the most affordable-yet-effective swing trainers on the market.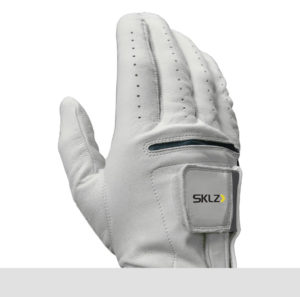 When the wrists break down before impact, golfers lose a lot of power. The SKLZ Smart Glove aims to fix this common swing flaw. The glove comes with a plastic insert that trains you to keep your wrists flat and firm through impact. If you release the clubhead too early and "scoop" the ball, the plastic insert will let you know.
Best Putting Aids
The Perfect Practice Putting Mat has quickly become a sensation in the golf world and a favorite training aid among the pros, including Major champion Dustin Johnson: "I have seen my stroke improve by the day since I started using it and recommend it to anyone who is serious about improving their putting." The unique Crystal Velvet surface offers realistic rolls at Stimpmeter-tested speeds between 10-14, while "train-track" markings will help improve your alignment as you aim at either the regulation-sized or reduced-sized hole. The mat is enclosed by a classy, natural wood frame and also features an automatic ball return for added convenience.
Shop the Perfect Practice Putting Mat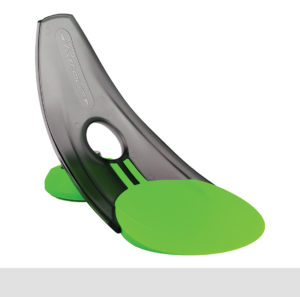 The Pressure Putt Trainer is a parabolic ramp that gives you instant feedback on your putting stroke. It's a simple concept, really. If the ball goes up the ramp and comes back to you, it was a good putt. If the ball goes off the ramp and you have to go retrieve it, it was a poor putt. You can also challenge yourself to get the ball to stick in the Micro Target. This training aid can get pretty addictive, so don't say we didn't warn you.
Shop the PuttOut Pressure Putt Trainer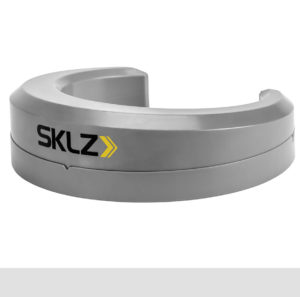 You can practice sinking putts at home with the SKLZ Putt Pocket. The Putt Pocket's horseshoe design will train your eye to aim for the high side of the hole so you can putt like a pro. And, since the cup has a smaller opening than a standard golf hole, you'll feel more confident the next time you're on the green. For added convenience, the Putt Pocket has a weighted base and traction pad to ensure the cup stays in place on almost any surface.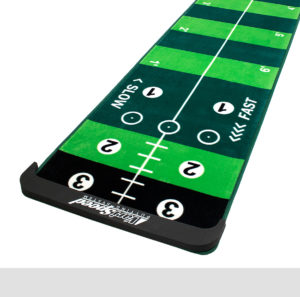 This putting mat is about as close as you can get to the real thing. For starters, the mat offers four Stimpmeter-tested speeds ranging from 7.5 to 13. You can easily adjust the speed by brushing the mat fibers with the included roller. You'll also get wedges that slide under the mat to create breaks along with a booklet featuring training exercises and games. Finally, each putt you take leaves a trace on the mat so you can track exactly how the ball rolled (don't worry, you can remove these marks with the included roller).
Shop the ProActive Sports VariSpeed Putting System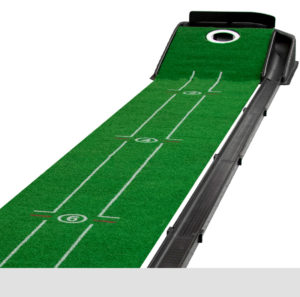 If you consistently struggle to make putts inside of 10 feet, this customer favorite can help. The Maxfli 9′ x 12″ putting mat features distance markings to provide feedback on exactly where your short game needs work. This mat is also family friendly – kids will enjoy the challenge of trying to sink putts – and the ball return system adds a little extra fun for youngsters (and convenience for you).
Shop the Maxfli 9′ x 12″ Automatic Putting Mat
Best Golf Mats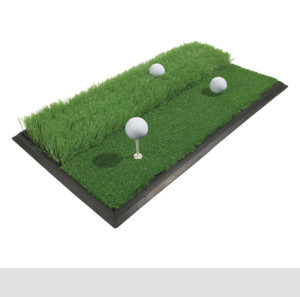 With the Maxfli Dual Height Golf Hitting Mat, you can practice a variety of shots at home. This 12″ x 24" mat is split into two equal sides. One side features short turf to simulate shots from the fairway, while longer turf on the opposite side lets you practice hitting from the rough. Like mats at the range, this product has a hole where you can insert a rubber tee to practice hitting your driver and woods – a 2 ¾" and 3 ¼" tee are included, as well as a tee plug if you prefer to practice with your own.
Shop the Maxfli Dual Height Golf Mat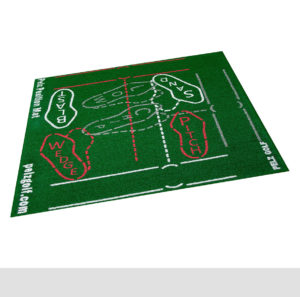 To make a good shot you have to set up correctly, especially in the short game. This short-game position training mat created by renowned instructor Dave Pelz will train you to place your feet and your ball in the optimum position on three crucial shots: pitch shots, low chip shots, and sand shots. The mat features color-coded footprints and ball stencils to help you set up correctly every time you address the ball.
Shop the Dave Pelz Short Game Position Training Mat
Best Golf Nets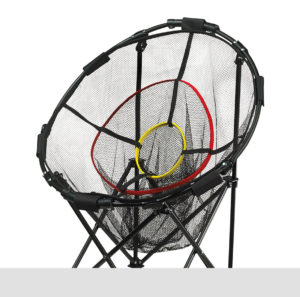 Backyard chipping practice can pay dividends on the course. Keep it challenging and interesting with the Maxfli 23″ Chipping Net. The net can expand from 7–23 inches, allowing you to test yourself with a variety of targets. Watch your practice pay off the next time you're facing a difficult up-and-down for par.
Shop the Maxfli 23″ Chipping Net
Who needs a driving range? Work on your full swing at home with the Callaway Base Hitting Net. The durable, stainless-steel frame is designed to withstand ball speeds up to 190 mph, and it also includes ground stakes to help the net stay secure. Set up and take down are simple, and you'll get a carry bag for added convenience.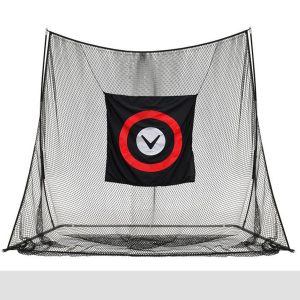 Shop the Callaway Base Hitting Net – 8′ x 10′
The Maxfli Performance Hitting Net is another great option for practicing full swings in the backyard. The shock-corded frame sets up easily and helps provide long-lasting durability. The net includes a detachable target so you can sharpen your accuracy, and the included carry bag allows for convenient storage and transport.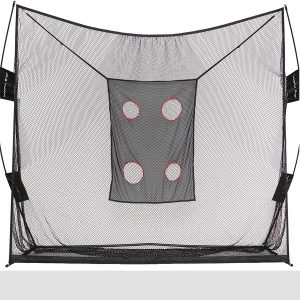 Shop the Maxfli 9′ x 8′ Performance Golf Hitting Net
Best Golf Training Balls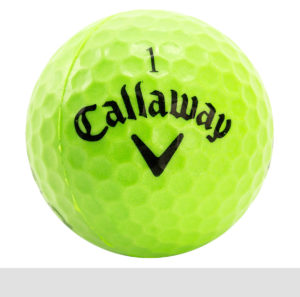 A common complaint with practice balls is that they don't fly like real golf balls, so you really can't gauge how well you're swinging. These foam practice balls feature the same HEX dimple pattern found on real Callaway golf balls, giving you incredibly realistic flight and feedback in your own backyard. You'll get nine balls and a mesh carry bag for added convenience.
Shop Callaway HX Training Balls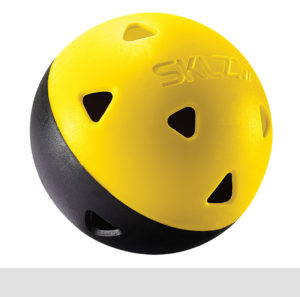 If you prefer the feel of plastic training balls over foam, the SKLZ Impact Training Golf Balls are the best choice. These regulation-size practice balls are made with durable plastic designed to resist denting. The yellow-and-black color scheme also lets you see how the ball is spinning during flight.
Shop the SKLZ Impact Training Golf Balls
Best Golf Swing Analyzers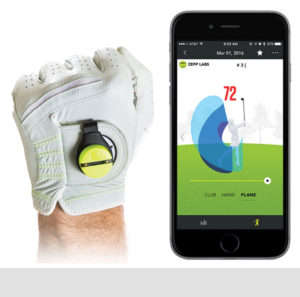 Practice is hugely important, but unless you have a personal swing coach on hand for each session, the benefits can be limited. With the Zepp Golf 2.0 Swing Analyzer, you can get incredible insights into your swing performance to make sure your practice is on the right track. The analyzer clips to the back of your golf glove and syncs with your smartphone or tablet. The analyzer will compile key metrics from your swing and display them on your device for you to review. You can see your swing speed, club plane, backswing position and more. The swing analyzer will even suggest training routines and instruction based on your performance.
Shop the Zepp Golf 2.0 Swing Analyzer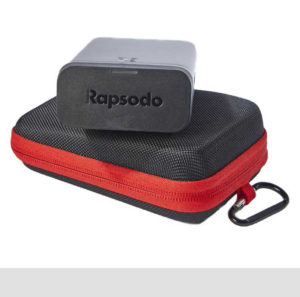 Next time you go to the range, take the Rapsodo Mobile Launch Monitor with you and practice like a pro. You simply connect your iPhone to the monitor, set it on the ground next to your hitting mat, and swing away. The monitor will record each swing you take and display key metrics on your phone, including carry distance, ball speed, clubhead speed, launch angle, launch direction and more. You can also review video of each swing, complete with tracer technology that shows the flight of your shots – just like the pros on Tour. The launch monitor itself is small and light – not much bigger than a standard smartphone – so you can easily store it in your golf bag. Be aware that the Rapsodo Mobile Launch Monitor is currently only compatible with Apple phones.
Shop the Rapsodo Mobile Launch Monitor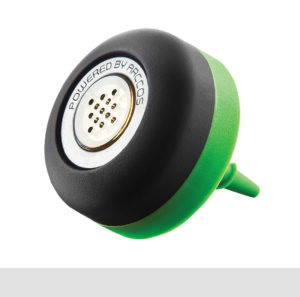 This system comes with 14 ultralight sensors that simply screw into the top of your current grips, giving you access to a treasure trove of game-changing Arccos data. You can review your stats in real-time on your phone and clearly see key data like average distance for each club, fairways hit and advanced analytics likes Strokes Gained. Arccos technology doubles as a rangefinder, providing precise distance to any spot on the course. Plays Like technology even accounts for wind speed and direction, elevation and other environmental factors. Plus, after you play a few rounds with your product, you'll get your own Arccos Caddie, an Artificial Intelligence program that makes club recommendations based on your personal shot history and current course conditions.
Shop the Arccos Golf Performance Tracking System
Looking for more ways to stay sharp at home? Check out our tips for proper ball positioning at address.