The Best Putters for Every Golfer
Improve your stroke and lower your score with this list of the best putters.
Have you ever had that feeling when, as soon as you address your ball on the green, you know it's going in the hole? We're not talking about a tap-in, either – this is a legitimate putt you could easily leave short or roll past the cup. But for some reason, this time, you can see your line perfectly. You barely have to think about your stroke as you take the putter back and send the ball rolling toward its final destination below ground. It feels so natural. Why can't every putt be so effortless?
Each putter on the list below is designed to give you that feeling more often. The golf equipment experts at DICK'S Sporting Goods have identified these mallet and blade putters as the top performers for your game, and each is carefully crafted to give you more control, better feel and added confidence. Learn more about the best putters and get ready to own every green.
Not sure which style is best for your game? Check out our guide to buying the right putter.
Best Blade Putters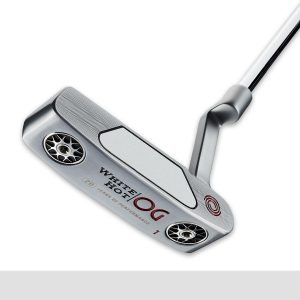 It's been 20 years since Odyssey first introduced the original White Hot putter with its famous urethane face insert. Now you can enjoy the legendary feel, sound and feedback in the new White Hot OG 1. Along with the super-responsive insert, this putter features a traditional blade design and plumber-neck hosel to create significant toe hang, making the OG 1 an ideal fit if you have an arc in your putting stroke. You can also shop custom White Hot OG putters at DICK'S, which allows you to choose your preferred head shape, shaft, grip, length and lie.
Shop the Odyssey White Hot OG 1 Putter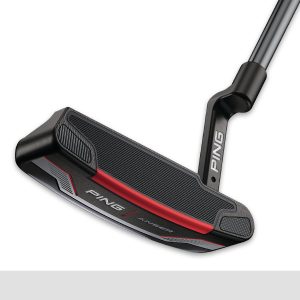 Since its debut over 50 years ago, the PING Anser has remained one of the most successful (and imitated) putter designs in golf. More than half a century later, the basic principles of Karsten Solheim's revolutionary creation remain largely unchanged: a cavity-back blade with an offset hosel that gives players a clean view of the face. You'll find those classic elements in the 2021 Anser but with exciting advancements, namely the new dual-density face insert. The insert features a soft layer of Pebax in the front to help improve accuracy on short putts, while a firmer layer in the back promotes better distance control on long putts. The moderate amount of toe hang should suit players with a slight arc in their stroke.
Shop the PING 2021 Anser Putter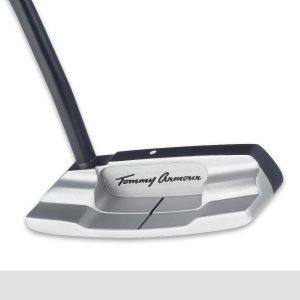 If you want to drain more putts without draining your bank account, consider this award-winning flat stick from Tommy Armour. The Tommy Armour brand, named after the legendary "Silver Scot" who captured three major championships between 1927–1931, reemerged in 2018 with an affordable line of clubs designed to perform just as well (or better) than more expensive options on the market. The new Impact No. 2 Wide Blade features a milled aluminum face insert with rubber backing designed to provide softer feel and improved consistency. The wide blade and double-bend hosel promote slight toe hang best suited for players with a bit of arc in the stroke.
Shop the Tommy Armour Impact No. 2 Wide Blade Putter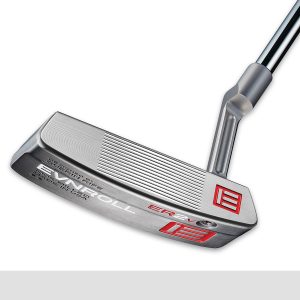 If you could use help with distance control and accuracy, this putter could be the solution. Like all Evnroll putters, the ER2v features "Sweet Face Technology" — a unique milling pattern where the grooves are widest at the center and taper off as they extend toward the heel and toe. According to Evnroll founder Guerin Rife, this design helps putts travel the same distance regardless of where contact is made while also redirecting mis-hits toward the intended target line. This model comes with a short plumber-neck hosel for players with a moderate arc in the stroke, but DICK'S also carries custom Evnroll V-Series putters if you prefer to choose a different hosel type (long plumber, short slant or long slant).
Shop the Evnroll ER2v MidBlade Short Plumber Putter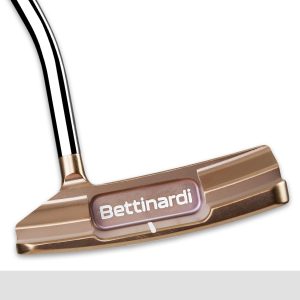 Bettinardi is known for making some of the game's most beautiful putters, and the new Queen B 6 is no exception. The wide-body blade is crafted from a single block of soft-carbon steel and finished with an elegant rose-gold PVD that's sure to elicit envious looks from playing partners. Patented Micro Honeycomb Face Milling provides a firm, responsive feel at impact, while the single-bend shaft offers added balance and stability for straight-back/straight-through strokes. Like all Bettinardi putters, the Queen B 6 is made in the USA at the company's headquarters outside of Chicago.
Shop the Bettinardi 2021 Queen B 6 Putter
Best Mallet Putters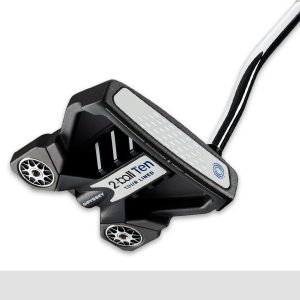 Odyssey first released the Ten putter in 2019 as a super-high MOI option that provides exceptional forgiveness on mis-hits. Now, for the first time, Odyssey has added its classic 2-Ball design to the equation to help you improve your alignment. This model, the 2-Ball Ten Tour Lined S, features a single black line running through the two white discs atop the putter to help you start the ball on the proper line. On the face, Odyssey's popular Microhinge Star Insert helps promote an immediate forward roll for improved speed and distance control. The Tour Lined S comes with a slant-neck shaft and mid-size pistol grip ideal for players with moderate face rotation and arc in the stroke. However, there are more options available when you shop the Odyssey 2-Ball Ten custom putter.
Shop the Odyssey 2-Ball Ten Tour Lined S Putter
Could you benefit from using a putter that blends the feel of a blade with the stability of a mallet? Scotty Cameron's latest Phantom X 5.5 is designed to provide exactly that. This putter features a milled, stainless-steel body with an aluminum sole plate that contains customizable weights for optimal forgiveness. The small slant neck can help players with an arcing stroke square the face at impact. Shop the Phantom X 5.5 custom putter to choose your weight settings along with your preferred length, lie and grip.
Shop the Scotty Cameron 2021 Phantom X 5.5 Putter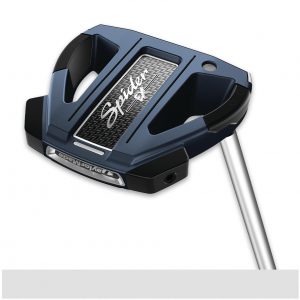 The EX is a brand-new addition to the popular Spider line, and it is loaded with cutting-edge technology to enhance alignment, feel and stability. For starters, the EX features an upgraded aluminum face insert — the Pure Roll 2 — with eight co-molded grooves to help improve topspin and promote better roll overall. The EX also comes with TaylorMade's first-ever fluted shaft that's designed to improve feel while maintaining stability and forgiveness. Finally, and perhaps most visually striking, is the new take on the True Path Alignment System. The updated design features two rails and three dots on a white background to help players see the proper stroke path more clearly. The #3 comes with a short slant shaft, but more options are available in the collection of Spider EX custom putters at DICK'S.
Shop the TaylorMade Spider EX #3 Putter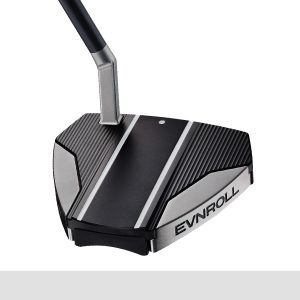 The ER11 is a newcomer to the Evnroll lineup. The unique design places mass out and to the rear to promote exceptional forgiveness and stability, while the patented "Sweet Face" grooves can help putts start and stay on the target line. The 11v also offers the most adjustability of any putter in the V-Series, with interchangeable weights and four hosel options. This model comes with a short slant neck, but you can also choose from short plumber, long plumber or long slant when you shop customizable ER V-Series putters at DICK'S.
Shop the Evnroll ER11v Mallet Short Slant Putter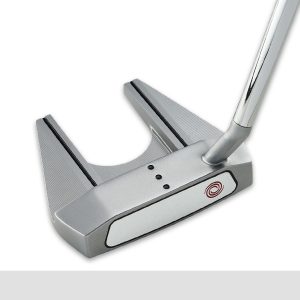 The new White Hot OG line makes its second appearance on our list, this time with the 7 S. This model is the combination of two iconic Odyssey creations. First, you have the legendary White Hot face insert that has been dominating greens for two decades with its incredibly pure feel and sound. Add in the No. 7 head shape – a top seller since 2006 — and you have a putter built for optimum all-around performance. The White Hot OG 7 S features a short slant neck ideal for strokes with face rotation and arc, but you can choose your preferred club components when you shop White Hot OG custom putters at DICK'S.
Shop the Odyssey White Hot OG 7 S Putter
Need some help starting your putts on the proper line? Check out Rory's McIlRoy's tips on how to read a green.