The Best Kids' Golf Gear for 2022
Help your young player succeed from tee to green with the best youth golf gear for 2022.
Are you looking to introduce a young athlete to the beautiful game of golf? Or perhaps your child has already fallen in the love with the sport, but now they need some new gear? Either way, you'll find everything they need for the course with this list of the best youth golf equipment and apparel. Explore our top picks to help your budding golfer excel this season.
*Disclaimer: Availability may fluctuate due to inventory.
Best Kids' Golf Sets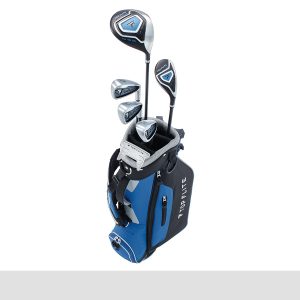 This complete golf club set is a great choice for kids who are just getting started. The set comes with every club needed to navigate the course: driver, hybrid, short irons, sand wedge and putter. Each club has features to help young players make solid contact, including a lightweight shaft on the driver, wide soles on the irons and markings on the putter to promote proper alignment. The set includes a stand bag with a four-way top and full-length dividers. Headcovers for the driver and hybrid are also included.
Shop the Top Flite 2022 Kids' 9-Piece Complete Set – (Height 53″ and Above)
If you're shopping for an athlete who already has some experience, you may want to consider this complete set from Cobra. The driver features a smaller, 375cc head and 16 degrees of loft to help players launch the ball high and long from the tee. The fairway wood and hybrid have low centers of gravity to promote consistent ball flight, while the perimeter-weighted irons (7 and 9) provide the additional forgiveness young players need. The sand wedge and blade putter are designed to help kids hone their short-game skills. The included stand bag has a five-way top, five pockets and two carry straps for extra comfort.
Shop the Cobra Junior 7-Club Set – (Ages 9-12)
Best Kids' Golf Clothes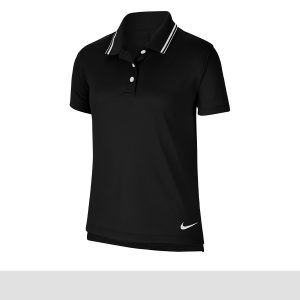 Your young player will look like a pro when she hits the course in the Nike Victory polo. This top-rated style features a relaxed fit with stretch fabric to help her swing away in total comfort. Breathable Nike Dri-FIT Technology wicks sweat away to keep players feeling fresh throughout every round. Plus, the hem is slightly longer in the back to provide extra coverage.
Shop the Nike Girls' Victory Golf Polo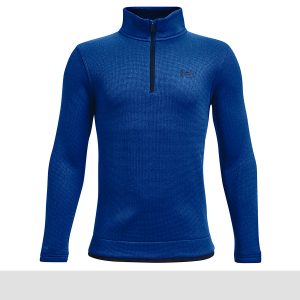 This ½-zip sweater fleece from Under Armour can help ensure your golfer is ready to play in changing conditions. Perfect for layering in cooler weather, this sweater fleece features a soft, brushed interior for next-to-skin comfort. The stretch fabric gives players exceptional range of motion on every swing, while patented Storm Technology will repel water if rain clouds move in.
Shop the Under Armour Boys' Sweater Fleece ½ Zip Long Sleeve Shirt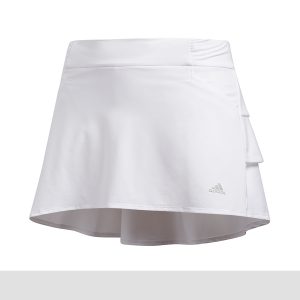 Fashion meets function in this stylish skort from adidas. The tiered ruffles give the skort a fun, yet sophisticated look, while the stretch waistband provides the flexibility she needs to attack the pin with confidence. The sewn-in shorts provide distraction-free coverage and the three pockets provide space for essential accessories.
Shop the adidas Girls' Ruffled Golf Skort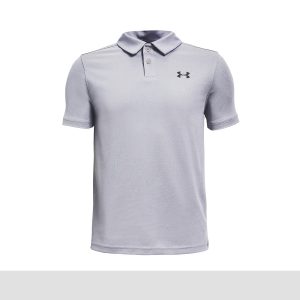 Tee up this top-rated polo for your future golf star. The four-way stretch material gives players the freedom to swing without restriction. Plus, it wicks away sweat and contains anti-odor technology to keep golfers dry and fresh on the course. The anti-pill fabric has a textured, snag-free finish to help keep the polo looking like new round after round.
Shop the Under Armour Boys' Performance Golf Polo
Top off their look with this eye-catching cap from PUMA. The 3D logo on the front offers unmistakable Tour-caliber style, while the snapback design allows players to adjust the size for customized comfort.
Best Kids' Golf Shoes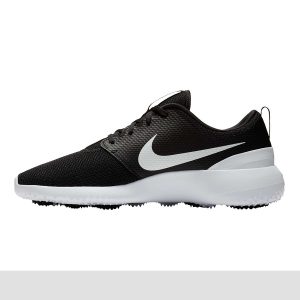 The Nike Roshe is an iconic piece of footwear. First released as a running shoe in 2012, the Roshe captured massive attention for its minimalist design, incredible comfort and affordable price point. In 2018, Nike created the Roshe G Golf Shoe, and it continues to be a popular choice on courses today. The kids' version is no exception. This top-rated style features a mesh upper for exceptional breathability, along with a foam-injected midsole that cushions every step. The spikeless outsole features additional traction in key areas to help kids stay balanced throughout the swing.
Shop Nike Youth Roshe G Golf Shoes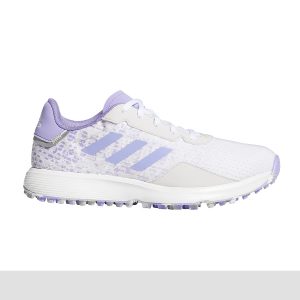 This shoe can actually help your young player reduce their footprint. Well, their carbon footprint. Made with recycled materials, the uppers provide breathable, waterproof comfort in all conditions. The midsole features adidas' Bounce cushioning that delivers responsive support on every step. The unique traction pattern on the spikeless outsole grips the turf to give young golfers extra control on each swing.
Shop adidas Youth S2G Spikeless Golf Shoes
Essential Course Accessories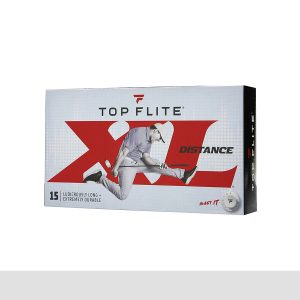 As kids are learning to refine the swing, plenty of shots will find their way into the woods, the water, the parking lot, etc. So you're going to want to stock up on golf balls — A LOT of golf balls. We recommend the Top Flite XL Distance. These affordable golf balls feature an Ionomer cover that can help reduce spin and promote straight ball flight. Plus, the core of the ball is extra responsive to new players produce more speed and distance.
Shop Top Flite XL Distance Golf Balls – 15 Pack
All players, and especially kids, can benefit from wearing a glove. A quality glove can help them maintain a secure grip on the club, and it may also help prevent blisters and callouses. For youngsters, we suggest the Top Flite Junior Golf Glove. Synthetic twill on the palm helps enhance grip in various weather conditions, while strategically placed Lycra provides added breathability. Keep in mind, a golf glove is worn on the lead hand. That means if your player is right handed, you'll want to purchase a left-handed golf glove (and vice versa).
Shop the Top Flite Junior Golf Glove
Maxfli Training Aids
Consistent practice is vital to becoming a better golfer. These training aids from Maxfli can help players sharpen their skills at home year-round. The Maxfli Dual Practice Chipping Net is a customer favorite that is perfect for backyard practice. Kids can hone their short-game skills by taking aim at targets of various sizes. Afterwards, the net folds down easily for simple storage. Kids can gain confidence on the greens with the Maxfli 9′ x 12″ Putting System. The mat features distance markings to help beginner putters master speed and control. Finally, if your golfer wants to practice full swings at home, they can do it safely with Maxfli High-Impact Foam Practice Balls. The dimpled foam surface is designed to provide realistic ball flight, allowing them to gain valuable feedback on each swing.