Best Running Shoes for Treadmill Running
Know what to look for when taking your run inside with these picks for the year's best treadmill running shoes.
Whether you're escaping the weather or connecting to a live workout, treadmills are a great alternative to outdoor running.
Training on a treadmill, though, isn't quite the same as running outside. Treadmills have a softer surface than other running areas, like pavement or trails. On top of that, there are no twists or turns requiring you to adjust your gait or feet. There is, however, a chance for landing in a different manner due to the treadmill's belt pulling underneath you. Because of these conditions, having a pair of running shoes for treadmill running may be the right move.
It's important to note, there truly is no "one size fits all" when it comes to buying running shoes. So how do you choose the best style for your stride?
The first step is knowing your feet and running gait. There are multiple ways you can find this out. One option is to consult with a podiatrist. Another is to visit a running specialist at DICK'S Sporting Goods for a complimentary gait analysis service. You can even do your own research with this Pro Tips guide, which breaks down gait and feet types.
Once you understand your own two feet, consider the following features when buying your own pair of treadmill running shoes.
WHICH SHOES ARE BEST FOR TREADMILL RUNNING?
When looking for treadmill running shoes, pay attention to the design's support, breathability, cushioning and durability.
SUPPORT
You'll be running with more repetition on a treadmill than you would outdoors. Less variation in your motion compared to a natural environment can put more repetitive stress on your body. If you wear a shoe with any motion-control features, choose something similar for proper support on the treadmill.
BREATHABILITY
No one wants stinky feet. So, you'll need a well-ventilated shoe to compensate for the lack of natural wind to cool your toes off. Shoes that are lightweight or have mesh are typically good options to help your feet breathe.
CUSHIONING
Sometimes your stride on the treadmill may affect how your foot lands. This may mean putting more pressure on your heel than the ball of your foot. If that's the case, extra cushioning is needed in the heel to help soften the impact.
Feel free to consider less cushioning if you're able to maintain proper running form when on the treadmill. As previously noted, treadmills can provide a softer running surface. Make sure to get enough support for your foot type, though.
DURABILITY
When running inside, you won't be facing the elements like you would when running outdoors. Dodging potholes, stepping in puddles or maneuvering around uneven surfaces are worries left at your doorstep. Because of this, the durability of your running shoes doesn't need to be as intense as that of a trail running shoe. The shoes shouldn't wear out as quickly, so focusing on models with heavy-duty materials made for those situations is unnecessary.
Still need help deciding which treadmill shoes are right for you? Use the DICK'S Running Shoes Finder to get the perfect fit.
BEST TREADMILL RUNNING SHOES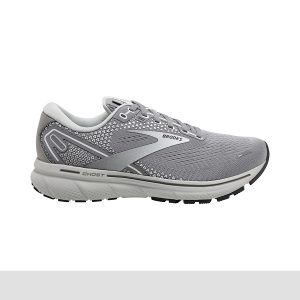 You don't need to believe in the supernatural to see why the Ghost 14 is one of Brooks' most popular styles. These running shoes, first introduced in 2008, feature an updated midsole with 100 percent DNA LOFT cushioning for a smooth ride. The Segmented Crash Pad also makes it easier to find your flow as you transition from landing to toe-off. Plus, you'll enjoy a soft and secure adaptive fit thanks to the newly engineered mesh and 3D Fit Print upper. Add a little spirit to your stride with the Brooks Ghost 14 running shoes.
Shop Brooks Ghost 14 Running Shoes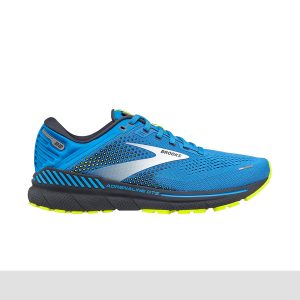 A favorite among runners for more than two decades, the Adrenaline series is designed to deliver the perfect balance of softness and support. GuideRails technology limits excess movement, so you can stay in your natural stride, even when you start to decelerate. The Adrenaline 22 also boasts DNA Loft cushioning and a Segmented Crash Pad for maximum comfort. A 3D Fit Print saddle further provides a supportive, secure fit. Feel the rush of every run when you lace up in Brooks Adrenaline GTS 22 running shoes.
Shop Brooks Adrenaline GTS 22 Running Shoes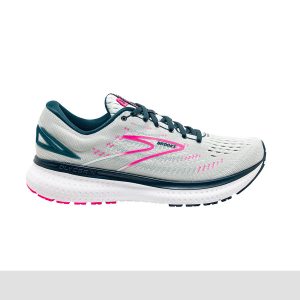 If you're crazy about cushion, the Glycerin 19 series may be the ideal choice for your next run. Billed as Brooks' softest shoe yet, it provides comfort and durability in a lightweight design. DNA Loft cushioning throughout the full-length of the midsole offers ultimate softness from heel to toe. Omega flex grooves also enhance midsole flexibility without compromising much-coveted cushioning. If you're looking for extra cushioning to help soften the repetitive impacts of your stride on the belt, consider adding Glycerin 19 to your running repertoire.
Shop Brooks Glycerin 19 Running Shoes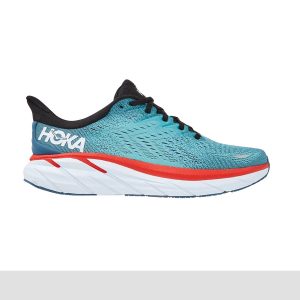 The latest entry in HOKA ONE ONE's Clifton franchise is a running shoe that's both soft and light. The Clifton 8's key components include a streamlined silhouette, lightweight design and responsive construction. But what sets this version apart is the new midsole compound offering one of HOKA ONE ONE's most energetic foams. If you loved everything about the previous model, the Clifton 8 may be your ticket to an even smoother ride.
Shop HOKA ONE ONE Clifton 8 Running Shoes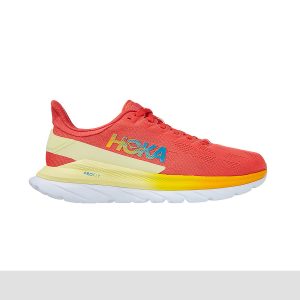 If you're looking to log long miles, the HOKA ONE ONE Mach 4 is ready for the journey. The fourth installment in this HOKA ONE ONE franchise is softer and bouncier than previous models. This is due to the combination of a soft, lightweight foam on top with a rubberized foam underneath. The Mach 4 also features a revamped upper made from heat-pressed TPU embroidered yarns and a refined collar shape. This upgrade takes aim at alleviating pressure on the Achilles. If you seek more speed for your stride, get ready to take off in the HOKA ONE ONE Mach 4.
Shop HOKA ONE ONE Mach 4 Running Shoes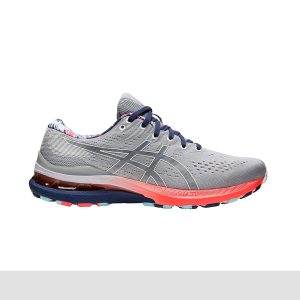 These running shoes are crafted to help you find balance in both your mind and your stride. One of the key technologies in the GEL-KAYANO 28 is the GEL cushioning. This design feature is intended to help improve shock absorption in high-impact areas. To help improve stability and responsiveness, ASICS added FF BLAST cushioning in the midsole. The result is a smooth and supportive feel with every step. Dynamic Duomax technology also works to prevent overpronation. Take on your next run in ASICS GEL-KAYANO 28 running shoes.
Shop ASICS GEL-KAYANO 28 Running Shoes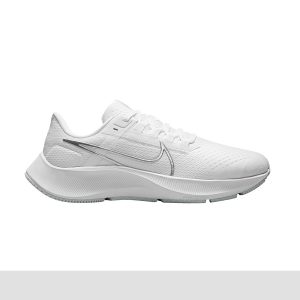 Featuring breathability where you need it most, the Nike Air Zoom Pegasus 38 is your official workhorse with wings. Mesh in the upper feels breathable and stretches with your foot for a comfortable shape and fit. Midfoot webbing further adds to a secure fit by tightening when you lace up. A Zoom Air unit helps to put more bounce in your step, too. Looking to take your treadmill running to new heights? Soar to a personal best in Nike Air Zoom Pegasus 38 running shoes.
Shop Nike Air Zoom Pegasus 38 Running Shoes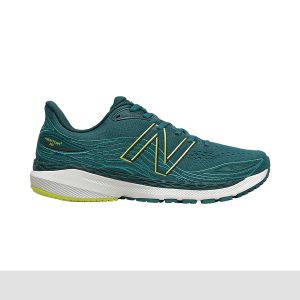 If you're looking for 360 degrees of comfort, the New Balance 860 V12 might be the right fit for your next treadmill run. The FRESH FOAM midsole cushioning has been precisely engineered to provide an ultra-cushioned and lightweight ride. Plus, enjoy a snug and supportive fit thanks to the mesh upper with strategic embroidery for reliable support. Stay light on your feet with every run in New Balance 860 V12 running shoes.
Shop New Balance 860 V12 Running Shoes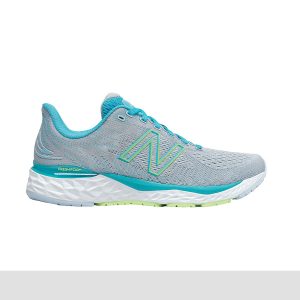 Keep your feet feeling fresh during your run with a pair of New Balance Fresh Foam 880 V11 running shoes. As the name suggests, the 880 V11 features a FRESH FOAM midsole for a soft ride. The engineered double jacquard mesh upper also adds breathability for a softer, unrestricted fit. The blown rubber outsole also enhances this running shoe's profile with improved durability. For a running shoe that's ready every time you step onto the treadmill, try the New Balance Fresh Foam 880 V11.
Shop New Balance Fresh Foam 880 V11 Running Shoes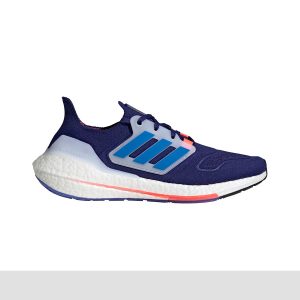 Need an extra push to complete your run? Finish strong in the adidas Ultraboost 22. The PRIMEKNIT upper includes foam around the heel to help prevent blisters, while the BOOST midsole works to maximize energy return and comfort. Plus, the Linear Energy Push system also allows you to enjoy more responsiveness than ever before. Take your run to the next level with adidas Ultraboost 22 running shoes.
Shop adidas Ultraboost 22 Running Shoes
No matter your running routine, the first step to buying your treadmill shoes is knowing both your feet and your gait. Whatever your reason for staying inside and using a treadmill, make sure you lace up with the right running sneakers.
Searching for the right size? Look for the True Fit icon on apparel and footwear pages when shopping online at DICK'S Sporting Goods. Get personalized size and fit recommendations with just a few clicks. Learn more about True Fit.