Best Winter Running Shoes of 2022
Don't let chilly conditions cool off your training routine. Find the best winter running shoes for keeping the pace year-round.
As the seasons change and temperatures begin to fall, you might think your outdoor running window has closed. But with the right shoes, you can keep the pace no matter the conditions, expanding your season to all 12 months. If you're on the hunt for a new pair of winter running shoes, there are a few things to keep in mind. Factors like traction, water resistance and reflectiveness can quickly become important, especially when running through snow-covered, limited visibility environments.
Thankfully, we've shoveled a clear path toward success and compiled a complete collection of the year's best winter running shoes. Find the perfect treads for wintertime PRs with this curated list of the must-have running essentials.

*Disclaimer: Inventory may fluctuate due to product availability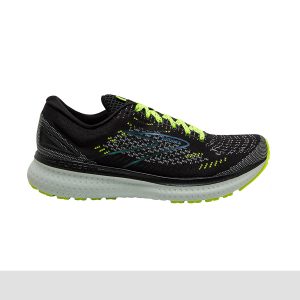 When running in the winter, it's important to stay visible as conditions change. The Brooks Run Visible collection of running shoes can help you stay safe and noticeable on the road or trail. Reflective fabric strips and patches in strategic locations help catch the light of oncoming traffic or street lamps. This light is then refracted brightly, alerting others of your presence on the road or path. Available in popular Brooks models including the Ghost 14, Glycerin 19 and Hyperion Tempo, there's plenty of options to brighten every step this season. Step out and stay noticeable this winter with the Brooks Run Visible collection.
Shop Brooks Run Visible Running Shoes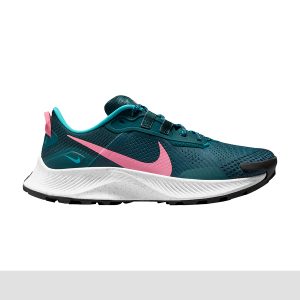 Looking for a pair of winter running shoes to tackle the snow and ice? Get out and get moving with the Nike Pegasus Trail 3 GORE-TEX. The protective GORE-TEX layer can help keep your feet dry and comfortable on your runs. An added gaiter at the collar also helps block out other debris and splashing water as well. Inside, the Pegasus Trail 3 features Nike React foam for a durable, lightweight ride. Step confidently whether on the trail or road thanks to the nubbed outsole for improved traction. There are even additional nubs at the heel and toe, perfect for ascending or descending hills. Soar through your winter workouts this season with the Nike Pegasus Trail 3 GORE-TEX.
Shop the Nike Pegasus Trail 3 GORE-TEX Trail Running Shoes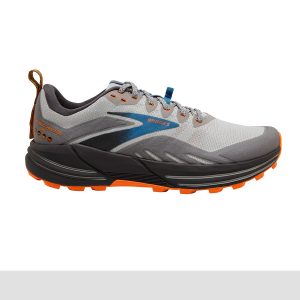 What if you're running on salted roads and dealing with slush? The Brooks Cascadia Trail 16 features a gusset for blocking out sand and small debris. An updated Ballistic Rock Shield also provides protection, blocking pebbles and rocks while also adapting more easily to uneven terrain. The Cascadia Trail 16 is built for performance, but don't think this ride is uncomfortable. DNA LOFT v2 cushioning in the midsole provides lightweight, soft conditions to make every step enjoyable. Tackle the tundra – or the neighborhood loop – with ease this winter and lace up the Brooks Cascadia Trail 16.
Shop the Brooks Cascadia Trail 16 Running Shoes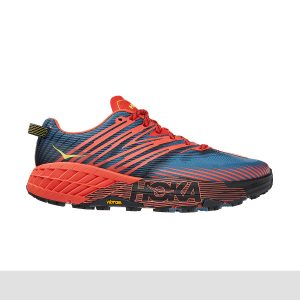 Rugged and ready, the HOKA ONE ONE Speedgoat 4 can be a perfect option for late-season jaunts. Boasting a Vibram Megagrip outsole, these running shoes are durable and primed for winter terrain. Zonal rubber placement along the build can help improve stability and support, perfect for uneven or altering trails. A mesh upper and gusseted tongue help improve breathability as well, working to keep your feet cool and dry. Have your greatest winter yet and train your way with the HOKA ONE ONE Speedgoat 4.
Shop the HOKA ONE ONE Speedgoat 4 Trail Running Shoes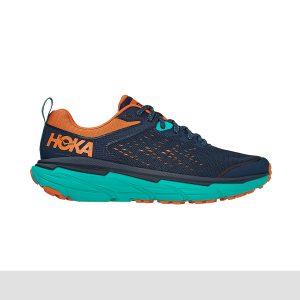 Bring purpose to your winter training with the HOKA ONE ONE Challenger 6. This running shoe features recycled poly laces and meshes composed of Unifi REPREVE recycled yarn, lessening its environmental impact. Speaking of impact, the CMEVA foam midsole creates a stable footprint in each step, absorbing the impact for a comfortable stride. And you can tackle the terrain confidently thanks to the 4mm lugs for improved traction and grip on every wintry jog. Step up to the occasion this winter and perform at your best with the HOKA ONE ONE Challenger 6.
Shop the HOKA ONE ONE Challenger 6 Trail Running Shoes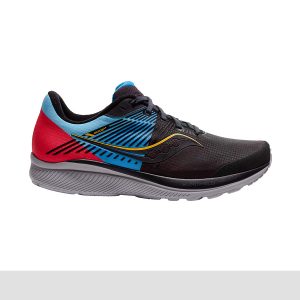 Stay visible and dry this winter running season with Saucony's collection of winter running shoes. Their VIZIPRO technology mixes ultra-bright colors with reflective details to help you stay noticeable to others along your path. Looking to conquer the slush, snow and everything in-between? Turn to Saucony's RUNSHIELD collection, boasting warm, weather-resistant tech to tackle the elements head-on. There are multiple options to choose from, so finding the right fit for your needs is a breeze. Lace up and prepare to crush your training with Saucony's wide variety of sneakers ready for wintry success.
Shop Saucony Winter Running Shoes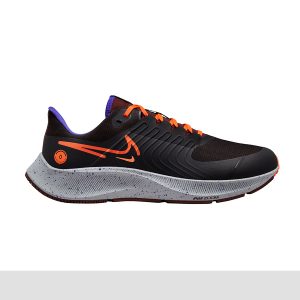 Want to take on the elements while still remaining comfortable on the road? Lace up in the Nike Shield collection. This weather-resistant treatment helps block out the damp chills of rain and inconvenient conditions. Despite this, Nike Shield running shoes remain breathable for a cozy ride throughout your training. The Shield collection also utilizes Nike's reflective technology for improved presence on the road and path. Available in a number of popular options, including the Nike Air Zoom Pegasus 38, these running shoes are ready for the season's next test. Find your stride and stay on the attack with the Nike Shield collection.
Shop Nike Shield Running Shoes
Okay, you've got the right shoes for winter, but how do you dress for a chill-filled run? Leave the snowsuit at home and use these Pro Tips to learn how to dress for winter running success.