Pro Tips DIY: From T-Shirt to Tote Bag
Repurpose your event T-shirt into a functional and fashionable accessory with this quick tutorial.
A t-shirt can be a fun and stylish way to remember an event. For athletes, the amount of T-shirts acquired from races past and previous tournaments can begin to quickly pile up. To hold on to those fond memories, you could give these event T-shirts new life with some Do-it-Yourself creativity. One fun and functional option is to repurpose them into a fashionable tote bag.
To transform that tee to tote, you will need some supplies:
Old event tee
Fabric marker
Scissors/fabric cutter
Cutting pad (if using a fabric cutter)
Ruler
Sewing pins
Sewing machine
Thread
STEP 1: CUT THE SHIRT BOTTOM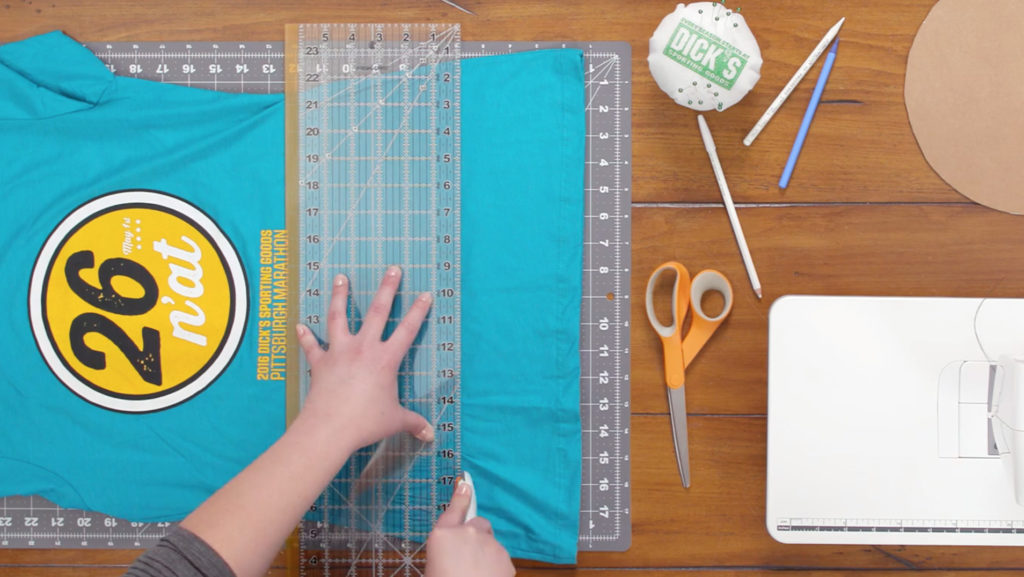 Lay the shirt on a flat surface. This cut will be the bottom of the T-shirt tote bag, so determine how deep you want your tote. A good length for most is with a 6-inch cut from the bottom depending on its size. Mark this length with a pin or marker. Line the sides up with your ruler and cut.
STEP 2: CUT THE SLEEVES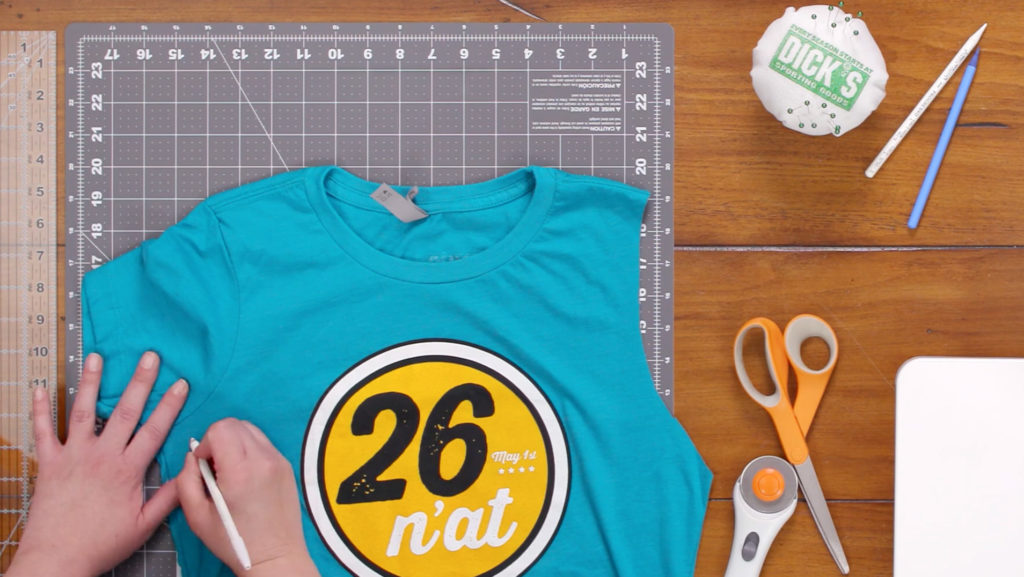 For this step, make sure that your shirt remains flat. With your fabric marker, draw a line for your sleeves by following the original seam. These will be your tote bag straps. If you want larger holes for a roomier feel, make the cuts on the interior of the original seam toward the chest.
BONUS PRO TIP: If you're following the original seam, leave a ½ inch of extra fabric. This is so you can sew a new seam for a more finished look later.
Once your lines are drawn, use your scissors or fabric cutter to make the cut. Repeat this step for the other sleeve.
STEP 3: CUT THE NECK HOLE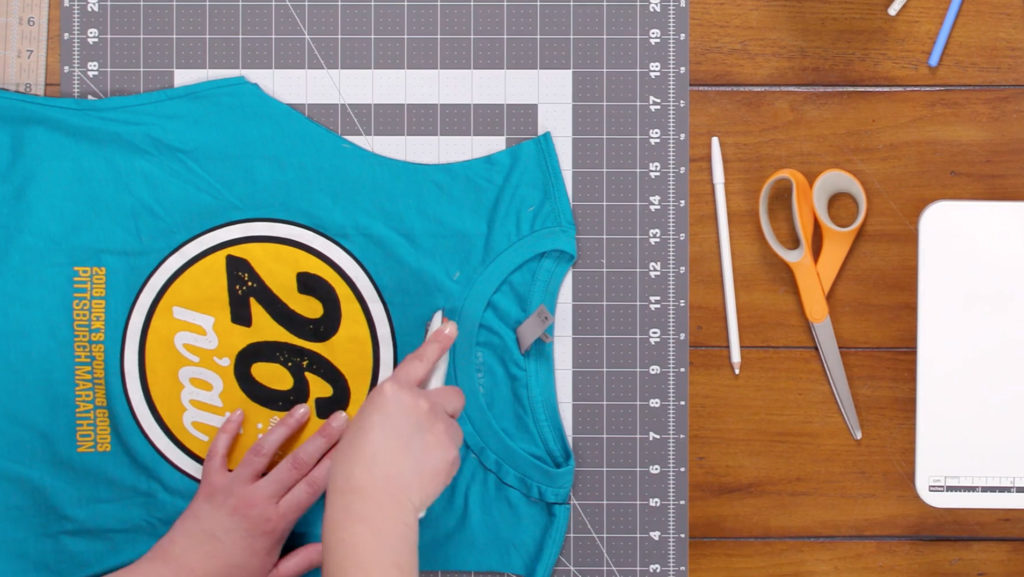 For your final tote bag DIY cut, draw a half-circle around the neck hole area, roughly 10 inches in diameter. You should have about 2 inches to 3 inches of fabric remaining in the top of the shoulder area for your tote straps' thickness. You can use a stencil or freehand if you feel confident. Follow your marks and cut along the neck hole line.
STEP 4: SEW THE BOTTOM SEAM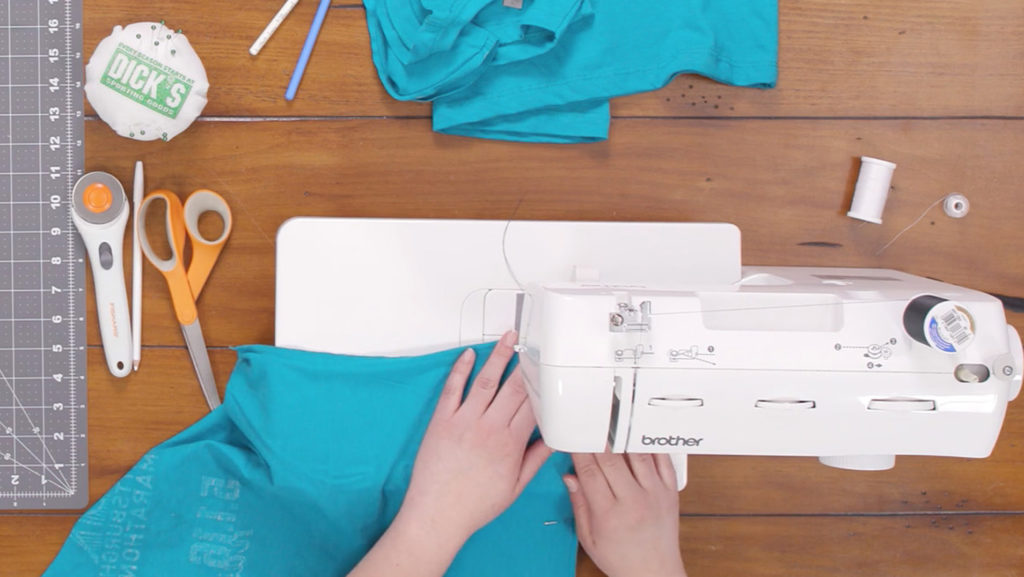 Turn your shirt inside out and align the edges. Pin the bottom cut together, leaving roughly a ½ inch of seam. Sew the fabric together, finishing the seam with a zigzag stitch for added durability.
PRO TIP: If you are unsatisfied with your bag's length and feel it's too deep, don't fret. Just trim a few inches from the bottom and sew a new seam.
STEP 5: SEAM THE STRAPS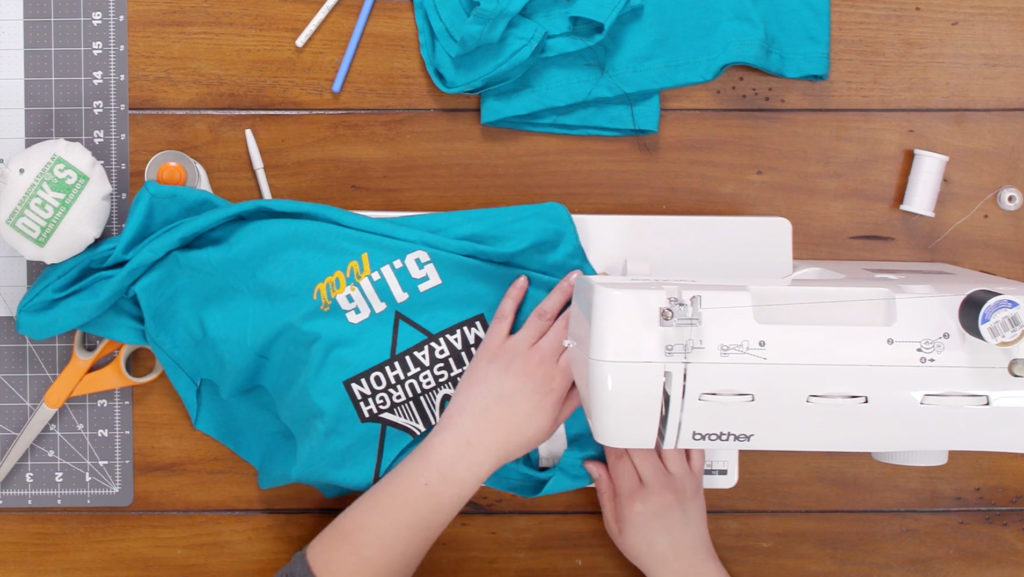 Turn your shirt right side out. Take the ½ inch of fabric left on the sleeve and turn it back inward. Pin this all the way around the hole and sew. There should be roughly a ¼ inch of seam allowance. Repeat on the other sleeve and you are done!
With your new T-shirt tote bag, you could carry anything from sports gear to groceries from the local farmer's market. Whatever the task, you can rest assured your memories of accomplishments past will remain with you forever. By using these Pro Tips, you can get a few more seasons out of your event T-shirt with these DIY tote plans!
A tote can be a great, lightweight option for daily use, but what if your gear demands more support? Find out how to choose the right backpack for your activity with these Pro Tips.