Find Your Fit: How to Buy the Right Ice Hockey Skates
Aside from your stick, your skates are the most important piece of equipment you need to take the ice. Follow our tips to get the perfect fit.
WHY FIT MATTERS
Consider your skate as part of your foot, which is why finding the right fit for your skate is imperative to ensure you stay at the top of your game. Not only will an ill-fitting skate affect your performance, it could cause discomfort, blisters and even injury.
Skate fit depends on your age, level of play, position and overall preference of feel. Forwards may prefer a lighter, low-profile skate built for maximum speed and agility, while defensemen may want a sturdier and more balanced skate that offers greater protection while blocking shots.

DIFFERENT FIT TYPES
TAPERED/NARROW FIT
INSTEP: Shallow
HEEL: Narrow
MID: Slightly Narrow
TOE: Standard
VOLUME: Low
BENEFITS: Ultra-narrow, low-volume fit locks in the heel to maximize speed, agility and control, which helps you "turn on a dime" and accelerate faster.
CONTOURED/ANATOMICAL FIT
INSTEP: Standard
HEEL: Snug
MID FOOT: Snug
TOE BOX: Standard
VOLUME: Medium
BENEFITS: Close-to-the-foot fit throughout the boot locks in the heel and contours the ankle, helping players achieve a fuller, more powerful stride without sacrificing control and comfort.
CLASSIC/COMFORT FIT
INSTEP: Deep
HEEL: Slightly Wide
MID FOOT: Wide
TOE BOX: Wide
VOLUME: High
BENEFITS: A deeper heel pocket with a wider and softer profile wraps around the athlete's foot to offer a lightweight, comfortable feel that helps produce a more natural glide.
SIZE CHARTS
Once you have selected your brand and model, reference the size charts below based on your regular shoe size to select the right hockey skate size.
Most popular skate brands are designed to fit 1 to 1.5 sizes smaller than your regular shoes. Most female hockey players will find themselves buying junior or men's ice hockey skates. When doing so, make sure to keep in mind that there is roughly a 3-size difference between a women's shoe size and junior or men's skates.
While wearing skate socks that you would normally wear in a game or practice, rest your foot flat on the footbed of the skate and lace them up. Your skate should feel snug and your toes should barely touch the toe cap. There should be no more than a quarter-inch space in the heel region (half an inch for young, growing children).
Next, lean forward while in your skate. Your toes should no longer touch the toe cap and the heel should be snuggly locked into place without any excess movement.
Lastly, be sure to give your skate a chance to "break in". Because of new skates' rigidity, it is normal for your feet to be a bit sore after using them for the first time.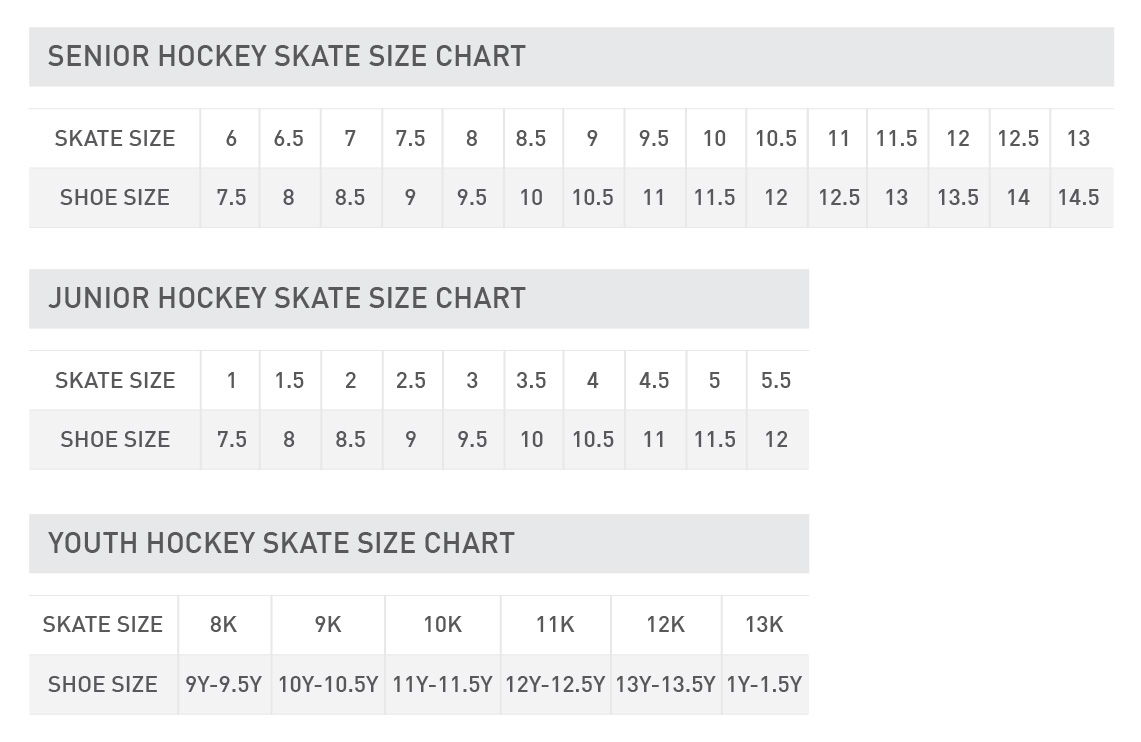 Use these size charts as a guide. Sizes may vary slightly by brand. Click on image to enlarge.