How to Do Bridge Pose
Learn the basics of this yoga backbend with these foundational yoga tips.
Once you've warmed up and completed a sequence from the yoga standing series, it's time to move onto floor work, which includes backbends like Bridge, or Setu Bandha Sarvangasana.
Deep breathing is a crucial component when performing backbends. Inhale and exhale deeply, in and out through your nose, as you hold this posture.
PURPOSE OF THE POSE
Can help stretch the chest, core and back of the body.
HOW TO
Lie flat on your back
Bend your knees and place your feet on the mat, slightly closer than hips-width distance apart and near your glutes to a comfortable degree
Lift your tailbone slightly to allow room underneath your body for your arms
Interlace your hands underneath and gently roll your shoulders under to create a solid base
Press your hands, arms and feet down to lift your hips up
To release, unwind your hands, then gently lower your hips to the floor
MODIFICATION: HIPS ON A YOGA BLOCK
Try the modified version of this pose by adding a yoga block. First, make the shape of bridge, then slide the block under your hips. Set up the block at its highest point, or on its side for a gentler stretch. Rest there.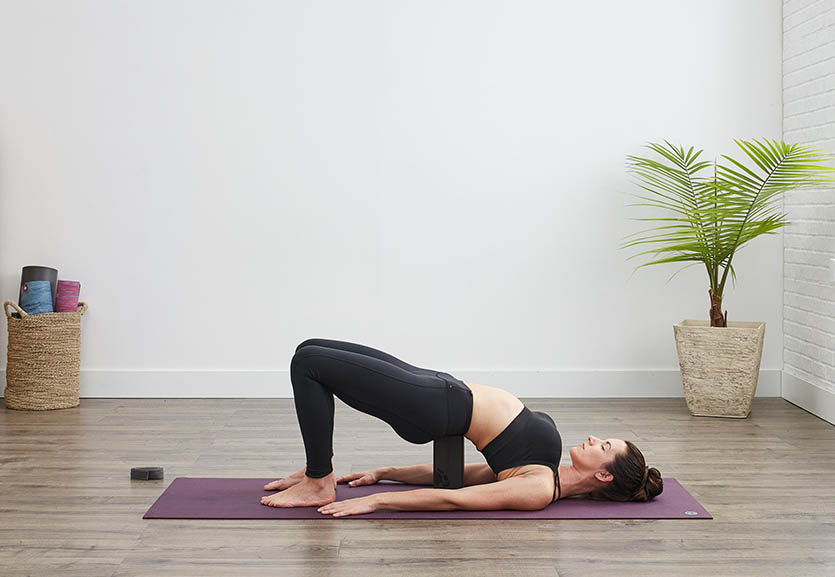 COMMON MISTAKE
Avoid squeezing your glute muscles. Instead, try activating the muscles in your thighs.
Ready to try the next pose in the backbending series? Learn the basics of Wheel pose.