How to Do Shoulder Stand
Learn the basics of this yoga inversion.
Shoulder Stand, or Sarvangasana, is an inversion typically practiced near the end of a yoga class. It's considered to be the "queen" of all yoga poses! Unlike many yoga poses, which start with a sturdy foundation of feet or hands on the ground, this pose flips everything upside down for a welcomed change.
Learn this posture and enjoy a few restorative moments in your day.
PURPOSE OF THE POSE
Helps promote relaxation. Can strengthen the legs and arms.
HOW TO
Start in Plow pose
With your hands at your lower back, lift your legs to the sky. (Alternatively, you can start on your back and lift your legs to the sky)
Press the balls of your feet up and squeeze your legs together
Look straight up. Do not turn your head
To release, return to Plow, then gently roll onto your back and rest
MODIFICATION: HIPS ON A YOGA BLOCK
If you're still working your way up to Shoulder Stand, you can practice Hips on a Block, which is a more restorative version of Shoulder Stand. You can enjoy the same benefits of the full inversion, but with a deeper sense of relaxation.
Begin Hips on a Block pose flat on your back, then lift your legs to the sky. Slide the block horizontally, at its lowest point, under your hips. Rest your arms by your sides and hold for a few breaths.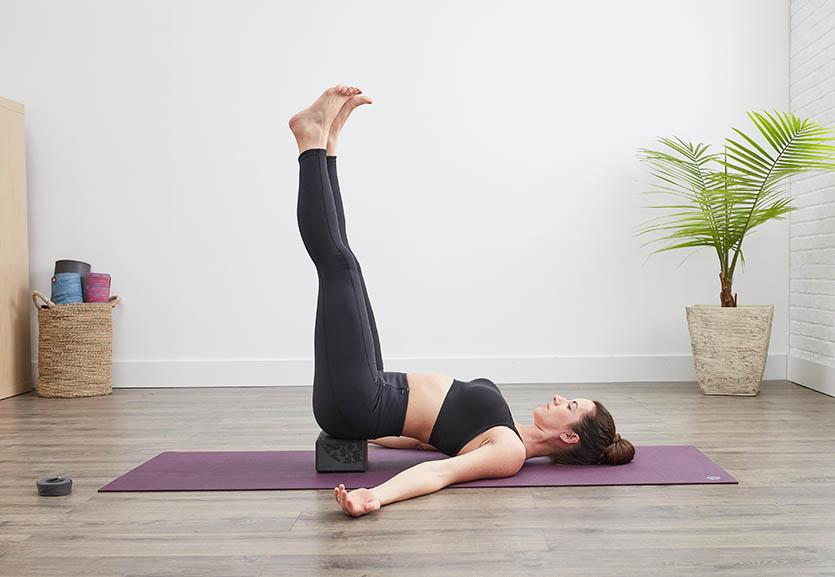 COMMON MISTAKE
Your leg muscles should be active throughout the pose. Avoid softening your legs.
You've almost completed your yoga sequence. Wind down with hip-opening poses like Half Pigeon and Happy Baby.